2020 – the year of the perfectly sustainable world?
Every major company has set ambitious sustainability targets for the year 2020. But will they actually reach them, or are these goals just too abstract and overwhelming for companies to actually take action?
In the last 10 years, every self-respecting company and government has been setting corporate social responsibility (CSR) goals for 2020. They are all equally ambitious. To mention just a few:
This is just a small selection of the 2020 CSR goals out there. Looking at all these goals, you're inclined to feel hopeful for the future. It seems that most companies and governments have set goals to reduce their environmental impact significantly.
But Will They Reach Their 2020 Goals?
At PRé, we are starting to see a divide between companies. There are those who are translating their corporate 2020 goals into actionable and measurable programmes, often using life cycle assessment as foundation. And there are those who do not seem able to move away from the strategic, abstract corporate level. The latter, we think, are at risk of not being able to reach their 2020 goals. Climate-neutral growth in 2020 sounds fantastic, but it is not easy to achieve this goal.
Why Are Companies Struggling?
In most companies, sustainability goals are set top-down. The management board sets targets about, for instance, energy, water and climate change. Then, business units and departments are given the task to start a variety of projects to achieve these goals within a given timeframe. The projects are often specific to a single topic, location or process.
Based on their corporate CSR goals, companies want to measure the results of these projects, so they can report on them and improve their performance. However, the goals are often not substantiated by insights on a business and product level, where this improvement could be achieved. So, reporting and improving turn out to be quite hard to do. As a result, we see business units setting up projects to reduce their greenhouse gas emissions, even though they don't really know their current impact, where their projects can cause the largest improvement, and what their contribution to the overall corporate CSR goals will be.
What Can We Learn From Companies That Succeed?
The companies who seem to be succeeding at meeting their 2020 goals often share a similar approach. They start by looking at the measurable impact of business units or products. Based on that, they identify the hotpots in the business units or product value chains. The next step is to check which corporate CSR goals are relevant for their business units or products, and to keep these in mind constantly while setting up improvement projects. This way, they can create projects with clear goals at the business unit or product level while constantly keeping corporate CSR goals in mind.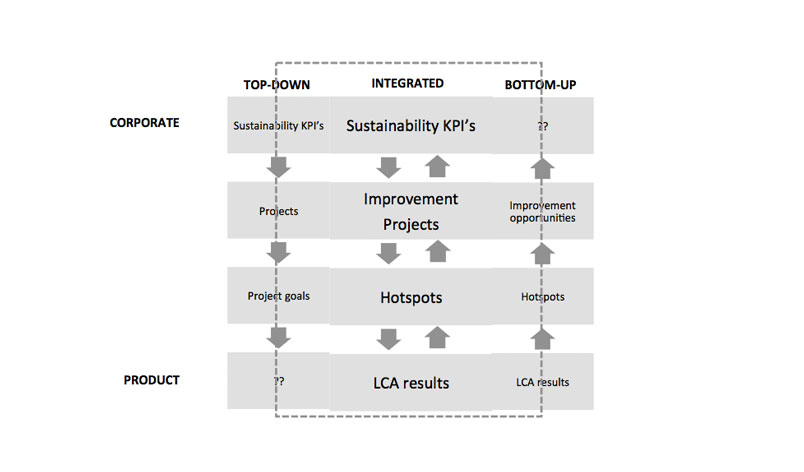 We believe the success factors of this approach are:
Focusing solely on the CSR goals that are relevant for the business units or products; where they can actually make a significant difference.
Making individual business units or product teams responsible for a set of core KPIs rather than for CSR department at a corporate level.
Phrasing goals in simple, clear language that everybody in the company understands, and integrating them into the daily workflow whenever possible.
The majority of companies still have a long way to go to meet their 2020 CSR goals, but the success stories are there. We still have four years to go to 2020, and we believe that with a good approach, most companies can still get far in reaching their goals.
When you want discuss the article or have any questions, you can drop me an e-mail at: gaasbeek@pre-sustainability.com
Anne Gaasbeek
Anne worked for PRé from 2012 to 2021. As a Senior Consultant and excellent program manager with a hands-on background in sustainability metrics, she helped a wide range of organizations, including SMEs, multinationals and policy-makers. By focusing on the user perspective, Anne helped develop better tools for both technical and non-technical users. Her areas of expertise include product social footprinting, impact measurement and valuation, measuring supply chain sustainability and sustainable business performance.