Abiotic Resource Scarcity at CILCA 2013 | PRé to Present Research
The culmination of the 3,5 -year EU funded project LC-Impact is nearby, therefore this March PRé will attend CILCA 2013 in Argentina to present findings on abiotic resource scarcity. The official culmination of LC-Impact will be presented during the 23rd SETAC European meeting in Glasgow this May.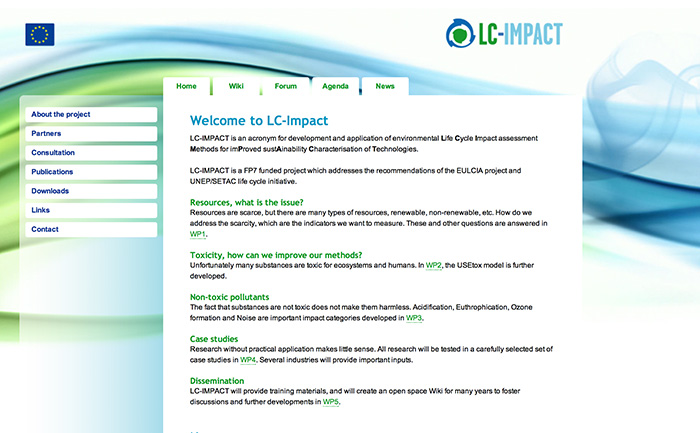 March 2013 – "It all began when the JRC (Joined Research Center of the European Commission) came up with a list of 15 different impact indicators, known as the ILCD recommended methods," explained PRé Technical Consultant Tommie Ponsioen, who will be presenting the research at the four-day event. "From there, the JRC developed recommendations to further improve life-cycle impact assessment (LCIA) in general, which resulted on the LC-Impact project" – he said.
Soon after that, PRé was involved in the LC-Impact project. Amongst other important tasks, PRé was dedicated to working to improve mineral and fossil (abiotic) resource scarcity method. It is this topic that Ponsioen will be presenting during CILCA 2013. "There is an increasing concern about resource scarcity," said Ponsioen, "but there is little consensus on how to calculate the impact." Attendees from academia, industries, and non-profits will be on hand to hear the presentation, to create awareness about the impact of resource use.
"The total amount of available future resources is uncertain," Ponsioen said, stressing the importance of this research, and the inherent uncertainty of the calculations. "By including a meaningful abiotic resource scarcity method in multi-impact LCA, we can begin to make better balanced decisions about environmental impacts."
It is apt to be having this presentation at CILCA 2013, as the event is being held in Mendoza, Argentina, one of the richest places in the world in terms of natural resources, from freshwater to minerals.
Learn More:
For more information about the Abiotic Resource Scarcity Research, you can contact:
Tommie Ponsioen
LCM Technical Consultant
ponsioen@pre-sustainability.com
Tommie Ponsioen
Tommie worked for PRé as a Technical Consultant from 2012 until 2015. As a part of the Consultancy Team, he worked with databases and methods. Tommie collaborated in projects such as Prosuite and improving the ReCiPe method.