Introducing New LCA Empowerment Training
For LCA and sustainability practitioners it's very important to contribute with extensive expert knowledge to the sustainability decisions of a company. That is only possible by working in close collaboration with other departments. However, this often takes a lot of struggle. In this piece, Soledad Contreras explains a practical approach to help solve that challenge, and introduces the new LCA Empowerment course.
In my work as sustainability coordinator at companies such as Danone, I've learned how important it is for LCA and sustainability practitioners to contribute our extensive expert knowledge to the sustainability decisions of a company. I have also learned how important is to collaborate with (and get collaboration from) other departments. Only then can we make things happen. However, I've also seen that this often takes a lot of struggle, and I have come to understand why this struggle arises.
In my current role as a Sustainability Consultant and supply chain expert, I finally have the opportunity to help other practitioners be more effective. That's why I'm happy to introduce the new LCA Empowerment course. This course is based on my own extensive experience and PRé's 20+ years of expertise as a leading voice in the LCA field.
Responding To Your Needs Around LCA In Business
Based on round-table discussions, quantitative research and literature research, we have developed a two-day course to help LCA and sustainability practitioners be more relevant and purposeful in a business context. The idea is simple, but effective: increase your personal impact based on 5 key factors.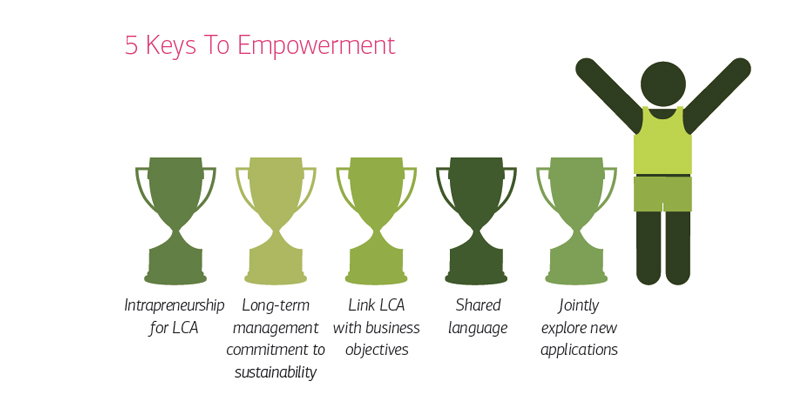 Think about these keys as the achievements you can unlock. An LCA or sustainability practitioner that has all 5 achievements is a truly empowered professional. You will know you have reached this goal when you recognize 3 things: you feel personally empowered, you feel connected with your business environment and you are aware of how you can contribute to the impact of your company in the sustainability arena.
Are You Ready For LCA Empowerment?
The LCA Empowerment approach is now available for LCA and sustainability practitioners. In a two-day course, I will provide you with the tools to become more effective in your business environment, through an in-depth exploration of concepts, models, and practical exercises.
We will be helping you answer questions about how to connect your work to your corporate goals, what your clients want and expect from you, how to get support from other departments and how to communicate results in an effective way. In doing so, you will learn how to create impact, increase innovation and build collaboration.
Many of our clients and people in our network struggle with these issues in their day-to-day work. At PRé, we recognized the need to respond to these issues, empowered by our 25 years of LCA expertise as leading voice in the field of Sustainability Metrics.
If you have any questions or comments about our 5 Keys approach, or stories you'd like to share about how you dealt with issues of relevance in business, please send me an email. I will be delighted to exchange stories with you and answer your questions!
Learn More About The LCA Empowerment Course
Please contact Soledad Contreras or visit our LCA Empowerment page.
Soledad Contreras
Soledad Contreras worked for PRé as a Sustainability Consultant from 2014 to 2016. As a part of Consultancy team, she coordinated the Roundtable for Social Metrics and provided training in Life Cycle Thinking.