Combating desertification and drought: PRé's work and LCA
The transformation of fertile land into less or non-productive land has been ongoing for decades, as the global population rose and the consequences of climate change became more severe. Human activity has exacerbated desertification to such an extent that since 1994 the 17th of June is known as the "World Day to Combat Desertification and Drought". In this article, we dive into the relevance of this day, celebrated last weekend, and explore the link with life cycle assessment and our day-to-day work here at PRé.
How can a natural phenomenon become a problem?
Drought, or lack of water in an environment, is a naturally occurring phenomenon which can lead to desertification over time. Under the influence of climate change, the frequency, duration and severity of droughts is expected to rise in many parts of the world.
If naturally occurring drought is combined with human activities that are not adapted to the local climate, land degradation will result. As the world's population and economic development keep growing, the demand for land increases and un-adapted human activities rise. Examples include unsuitable agricultural practices such as cultivation of steep slopes without measures for soil conservation, inappropriate land use, unsustainable land management practices and overexploitation of water resources. Figure 1 shows how the different causes amplify each other.
The consequences are manifold. As the land degrades, biodiversity shrinks and ecosystem quality diminishes. Moreover, the reduced productivity and disappointing harvest will increase poverty among the local populations. Severe cases of long-term drought and desertification may even lead to political crises, wars, migration and the deaths of thousands of people.
Figure 1. Schematic overview of how human activities that are not adapted to the local climate can exacerbate the consequences of naturally occurring drought.
2017 World Day to Combat Desertification
"Our land. Our home. Our Future" is the battle cry for this year's World Day to Combat Desertification and Drought (#2017WDCD). Special attention will be paid to the important link between migration and land degradation. A key question is how local communities can build resilience against existing complex development challenges through combating desertification and land degradation. Ever since the WDCD was invoked, a wide variety of activities showed the involvement of people worldwide.
Figure 2. Vietnam: Delegates of the WDCD meeting plant 2000 trees at Dien Bien Dong district, Dien Bien province to promote sustainable land management practices. Picture taken from United Nations.
WDCD is a unique occasion to remind everyone that solutions are possible! Desertification can be tackled by strengthening community participation and co-operation at all levels. The theme of 2017 emphasises the importance of productive land for securing food, generating local employment and contributing to the sustainability, stability, and security of desertification-affected places.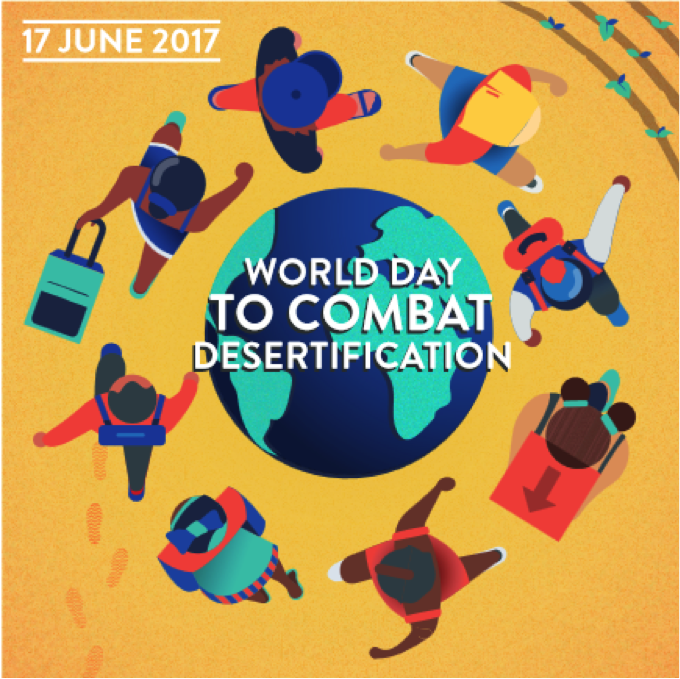 Figure 3. "Our land. Our home. Our Future," is the battle cry for this year's World Day to Combat Desertification (#2017WDCD).  Picture taken from United Nations.
Life cycle assessment can help combat desertification
Global involvement is needed to stop degradation and desertification. Therefore, world leaders made land degradation neutrality one of the targets of the Sustainable Development Goals. Together we need to fight the dominant economic development of "take, make and dispose". This is clear for many big companies, such as Mars, Staples, DSM and the GAP. These brands backed their commitment to fight against climate change by signing a letter to urge Trump to keep the US in the Paris Agreement.
Furthermore, companies are also translating this commitment into company strategy: reducing the environmental impacts of their product portfolio or designing innovative products. Examples from our customers are the cases of the ASN Bank, Agrofair and the Sustainable Apparel Coalition, working with issues such: Biodiversity, toxicity and water use, among many other. They realise that the huge demand of forestry- and agriculture-based products worldwide requires a thorough and regionalised assessment of the local consequences for mankind and the environment. Fact-based methodologies such as life cycle assessment can provide important insights on the impact of products or services on land use, land transformation and water depletion.
For me, this proves the relevance of our daily work here at PRé, and I am happy to work with anyone who is interested in combating desertification together. Please do not hesitate to share your ideas with me on this important topic! #2017WDCD!
Laura Golsteijn
Senior Consultant
I am eager to increase the environmental awareness of our society, and I believe that everyone can contribute to a more sustainable world, every day. At PRé we provide companies with both the knowledge and the tools to improve their products and services. I am excited to work for an organisation that is involved in developing sustainable initiatives.