Why Flexibility Matters for Sustainability Metrics | A Framework to Support Sustainable Value
There's no one-size-fits-all solution in sustainability. Given the myriad of businesses, products and services it's no wonder that harmonization of sustainability metrics is such a complex and difficult task
Thankfully, there does seem to be a move towards more pragmatic approaches. This is driven by NGOs wishing to better engage the business community, and by businesses themselves recognizing that a collective, self-determined approach can have big benefits. Collaborative initiatives such as The Sustainability Consortium and WBCSD are continuing to develop practical metrics approaches that provide flexibility within a common best practice framework. At PRé, we echo this mentality.
Flexibility in framework, crucial for sustainability integration
When the underlying science and methodology is robust and generally accepted at a peer level by recognized authorities such as UNEP and ISO, companies need the flexibility to develop their own approach and capabilities for sustainability metrics at a pace and depth that's right for them.
What we at PRé offer, therefore, is a set of services that provide our clients with an understanding of where they currently stand, and, going forward, their ambitions and the value they'd like to gain from applying sustainability metrics. Going further, PRé's services provide the necessary methodology, tools, and training to help our clients to attain those ambitions. Whether it's for reporting, identifying value chain hotspots, tracking performance, or improving the product development process, this is a suite of services within which any business can operate.
Integrated Metrics drives sustainable value creation
This suite of services revolves around five core themes, four of which have been integral to PRé for many years: LCA Expertise, Training, Research, and Software. Although these services work for specific client needs, they can be applied to support those organizations wishing to integrate and embed metrics into their everyday activities and decision-making. The result is a business context for metrics in order to drive increasing levels of (sustainable) value. Our services and experience come together within one framework – A framework within which we're able to support clients wherever they are on their sustainability journey.
Applying expertise and tools for metrics integration
We believe the movement towards sustainable value is similar to:
the need for improved durability and quality in the '60s and '70s
the need for safer products and working conditions in the '80s,
and then in the '90s for products offering more choice and a desire for 'experience'
If you ask many business leaders what is the next macro trend to impact their business, you're very likely to hear environmental or social considerations mentioned. It's not surprising that we, therefore, see increasing interest in building autonomous and core business capability for sustainability, fueling both short-term cost and risk benefits, to longer-term brand reputation, durability and innovation.
A stepwise approach for increasing levels of capability
Collaborating with external partners and learning from clients who are already using some of the framework's services and tools, we've identified four levels of sustainability capability. Three of these are key for metrics integration: 'gate to gate' operational, 'cradle to grave' product value chain, and product innovation. However, PRé's expertise and sustainability philosophy have always resided at the product level. Logically, our framework of services focuses squarely on the product value chain and innovation levels.
Building capability is not always a linear, sequential process. Although many consumer products will focus on incremental improvements and deep dives into their value chain, some companies – particularly in the technology and chemical sectors – will first need the innovation insight that sustainability metrics can offer.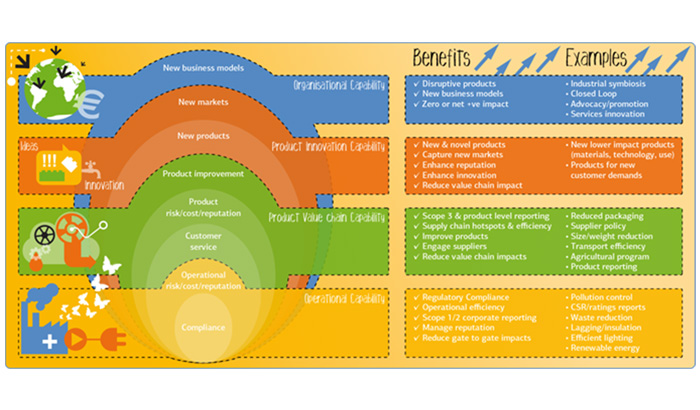 Integrating metrics drives sustainability capability and value
For each level of capability, three integration steps are followed. Clients start with initial scoping and planning, essentially to understand the where, why, and how. Then follows a building step, to develop the necessary metrics, methodologies, tools, and materials, and finally implementation support, via expert training and communication. Many of our core services are applied to allow each step and level to be taken, systematically integrating and creating business value.
I'll be going into detail on the services we offer within each of the capability levels and integration steps over the coming newsletters.
– Simon Evitts