LCM 2017 outcomes – life cycle management is the mindset to embrace circular economy
With speakers ranging from pioneering innovators, to business representatives, to LCA experts, LCM 2017 really succeeded in bringing two worlds together. Many of the sessions of this year had a strong focus on the implementation and assessment of circular economy trough Life Cycle Management, at different levels: From science to innovation. In this piece, Laura Golsteijn talks about innovation and what that has to do with Life Cycle Management to embrace Circular Economy.
A Story of Innovation
After a very succesful LCM edition, we like to look back on the learnings and take aways. Last week, we shared some impressions in our simapro blog, now it's time for more LCM 2017 outcomes.
Today, I'd like to share with you a story of innovation. To me, the absolute highlight was at the innovation level: the keynote presentation from Bertrand Piccard – the initiator and visionary behind Solar Impulse, the very first airplane capable of flying around the world without fuel. This story is not only very inspirational, but is truly a great example of 'Rethink', one of the most efficient strategies in reaching a circular economy. As Bertrand summarized: "To fly perpetually, we did not need MORE fuel, we needed NO fuel!"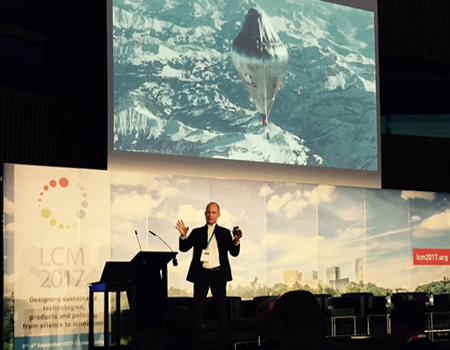 Figure: Bertrand Piccard  and his story of innovation at LCM 2017
Of course it was difficult. In fact, all people in the aviation business he spoke to told him and his 'partner in crime' André Borschberg that it was impossible. So in the end, all partners involved in building the plane came from outside the world of aviation. And they did it! Between March 2015 and July 2016, they flew around the world in 17 legs without fossil fuels. The only reason they stopped every now and then was to switch pilots, not because the plane had to.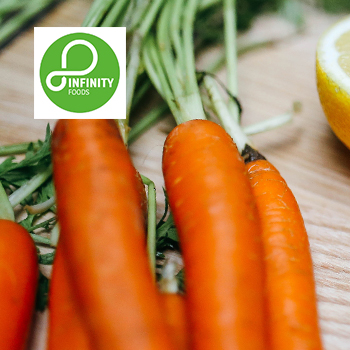 Collaboration is the Way to Innovation
What can we learn from this? I'd like to quote Bertrand again in saying that "it is not the people who were selling the best candles who invented the light bulb". Think out of the box. What we need to do in order to make the change is to collaborate and to "find the people who don't know it is impossible".  Companies, scientists, governments… we all need to work together to create a circular economy.
Applying Life Cycle Management to Circular Economy
The LCA community can be pivotal. We already have a lot of knowledge in hands, now we really need to understand how we can apply this knowledge to meet our co-workers' needs, our managers' needs, society expectations. I'm convinced that a collaborative mindset will help us implement the Circular Economy, and that is what Life Cycle Management really is about: using fact-based knowledge to find sustainable solutions. A nice example was shown during the session Turning the lens around: LCA success stories "ouside-in" by Jens-Christian Holst. He showed how cities can meet population growth and environmental targets at the same time with use of the City Performance Tool. Another nice example of applied Life Cycle Management to embrace Circular Economy, is one project in which we collaborated with the Wageningen University to find new applications for residual carrots from vegetable food waste streams. Thanks to this project, we unlocked the value of food waste streams, converting a waste stream into a resource for other cycle. This symbiose is really one of the basic principles of Circular Economy.
Share your Hurdles, What's Getting in your Way?
That is also the general take-home-message that remains in my head after LCM 2017: it's not the technology that is preventing us from improving; it is really the change of mindset that takes time. What the world needs now, is quality of life for all species. And LCM 2017 outcomes confirm without a doubt that this is possible if we all collaborate to achieve it!
Now… let's start practicing what we are preaching. Whether you were at LCM or not, please feel free to reach out, especially if you have examples or hurdles in your way to applying fact-based sustainability.
Image credits: LCM2017
Laura Golsteijn
Senior Consultant
I am eager to increase the environmental awareness of our society, and I believe that everyone can contribute to a more sustainable world, every day. At PRé we provide companies with both the knowledge and the tools to improve their products and services. I am excited to work for an organisation that is involved in developing sustainable initiatives.