The typical scope of social sustainability metrics
Most companies limit social metrics to the upstream part of their value chains. The focus is usually on social audits of suppliers' working conditions and human rights violations. So, what is really the typical scope of social sustainability metrics?
The trend
Important developments are now occurring. More attention is been given to the development of the relationship with suppliers and the engagement of external stakeholders, which will potentially replace a large number of redundant questionnaires and inspections these groups must generally deal with. In addition, there are now more tools available to support social assessments, and even further developments continue to take place at companies and in academia.
At the same time, companies are showing interest in taking the next step: managing social impacts at the product level. They realize this is the way forward, as it helps them identify opportunities and minimize risks in an effective way.
Cutting-edge social metrics
Following this trend, the largest companies are working to develop frameworks for social sustainability at the product level, which can fit their overall sustainability strategy. As these frameworks begin to take shape, the pioneers are now getting greater than ever insight into potential social impacts — both positive and negative — throughout the life cycle of their products.
Our approach
Contrary to the mature environmental LCA, we are missing a well-accepted and yet feasible method to assess the social impacts of products. Our way to cope with this major limitation was to build our own approach for product social sustainability metrics, based on consolidated frameworks, including the UNEP SETAC Guidelines for Social LCA, the GRI, and ISO 26000, while staying focused on the practical application and added business value. We do not think most companies will have the resources or the time to invest in such an extensive social assessment of one single product otherwise.
Our approach combines life-cycle thinking with company strategy and useful corporate social responsibility concepts, such as materiality, sustainability context, sphere of influence, and stakeholder engagement. We also observe that, particularly in social sustainability, where formulas are not always meaningful, internal and external consultations are critical success factors throughout the whole process, from defining the framework to implementation.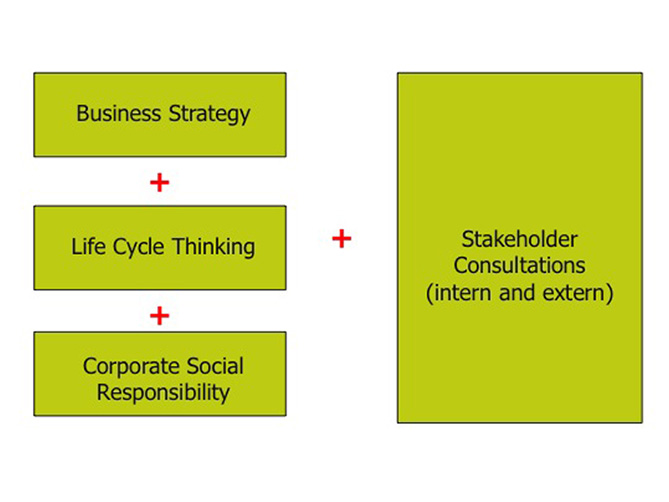 When it comes to modeling and interpreting the results, we apply characterization factors. This way the sustainability manager can assess qualitative information and yet represent the results with quantitative figures. We recognize the importance of the characterization factors in this context, and therefore the need to define them properly, in line with both the background of the company and international agreements.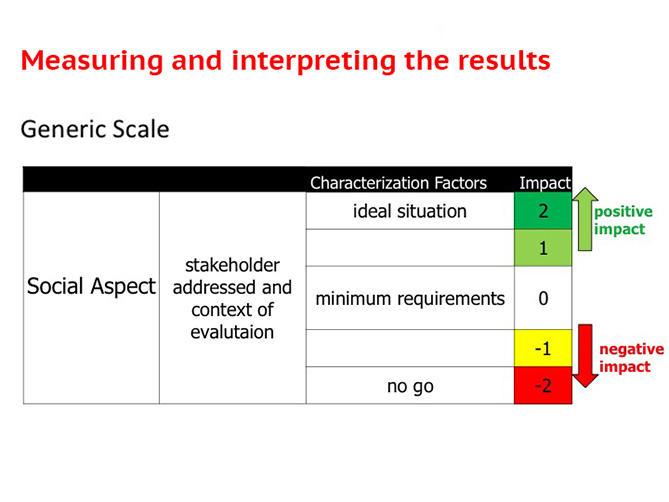 The application
Once the social framework is defined, the implementation of social metrics will inevitably need to involve different departments within the company, including product design, purchasing, marketing, and social responsibility. We realize that social metrics can provide a large volume of data, but the maximum social benefit will be achieved only if the company is prepared to handle it and to take concrete action, hence the need to implement social metrics in collaboration with various departments.
We believe social and environmental metrics can be integrated, allowing us to manage sustainability with a more holistic approach, although aligning the scopes of the assessments and the levels of data remains challenging. This potential synergy with environmental metrics programs can create additional sustainable value across organizational product portfolios. In order to make it happen, we first need to shift our paradigms, so that we can take social aspects into account whenever we look at a sustainability issue.
João Fontes
Consultant
João Fontes joined the Consultancy team in 2008, focusing on social sustainability. He co-initiated the Roundtable for Product Social Metrics. João worked at PRé from 2008 to 2016.