Updated method ReCiPe2016 improves accuracy in quantifying impacts on human health and environment
PRé and the Radboud University Nijmegen, among other academic institutes, collaborated on the update of sustainability impact assessment method ReCiPe, the update method is known as ReCiPe2016. ReCiPe2016 enhances accuracy in quantifying life cycle impacts on human health, ecosystem services and natural resources. ReCiPe206 is available on demand. In this piece, Laura Golsteijn explains the potential applications and shares developer's experiences.
What's in the update of ReCiPe2016
Circular Economy, Biodiversity, Water Footprinting: Potential applications for sustainability practitioners
The new version of ReCiPe contributes to a better understanding of the environmental impact of goods, services and processes – up to date with the current scientific knowledge. As some wishful thinking is healthy, there are obviously more improvement opportunities on the method developers' wish lists. Future improvements relate to the regionalization of more impact categories, moving from local to global species extinction and adding more impact pathways.
Yet, using this updated method has important benefits for sustainability practitioners, not just those specialized in LCA, as follows:
The insights obtained can be used to reduce the environmental impact and to assess the extent to which a circular economy is beneficial for the environment.
For people that are particularly interested in water footprinting, the newly included impacts of water consumption on human health, terrestrial ecosystems and freshwater ecosystems, plus the option to see these impacts alongside other environmental impacts, may be interesting.
Furthermore, the new ReCiPe2016 can be used as the basis for tools addressing the biodiversity impacts of supply chains, like BioScope.
Last but not least, ReCiPe2016 also provides global characterization factors instead of only European.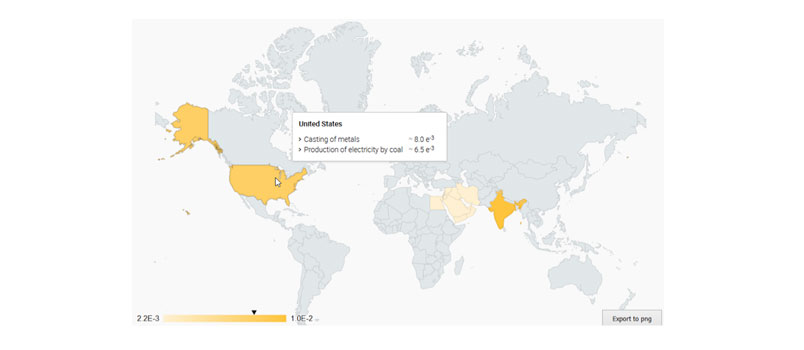 Figure: BioScope, Biodiversity Impacts Global Mapping Feature
Method Developers' Experiences
ReCiPe2016 was developed in collaboration between the Dutch National Institute for Public Health and the Environment (RIVM), Radboud University Nijmegen, Norwegian University of Science and Technology, and PRé. In this updated version, PRé and The Radboud University of Nijmegen continued the fruitful collaboration of the past years, in the development of the mineral and fossil resource scarcity improvements. This work is part of the soon-to-be-finished PhD thesis of our colleague Marisa Vieira.
Additionally, PRé worked also in the application and implementation of ReCiPe2016 into SimaPro, the leading Life Cycle Assessment software. Thanks to extensive and conscious testing by both the method developers as well as PRé's consultants, ReCiPe2016 was smoothly implemented. Updating a well-known life cycle impact assessment method like ReCiPe is a responsible task. The method developers are excited about this operational successor and hope it will be as successful as its predecessor ReCiPe2008.
ReCiPe Goes Global
As mentioned before in this article, ReCiPe2016 also provides global characterization factors instead of only European. Moreover, these characterization factors are available at a country- or region scale for fine particulate matter formation, photochemical ozone formation, acidification, freshwater eutrophication and water use.

More about ReCiPe 2016 for the LCA community
ReCiPe2016 provides a state-of-the-art impact assessment method to convert life cycle inventories to a number of harmonized impact scores on midpoint and endpoint levels. In collaboration with professor Mark Huijbregts, we developed an extended overview of the key elements of the update for LCA practitioners. You can read more about the technical details and the implementation of ReCIPe2016 in SimaPro in this article or access the scientific publication of the International Journal of Life Cycle Assessment.
Using ReCiPe2016
ReCiPe 2016 will automatically be available for LCA practitioners in the next SimaPro update scheduled for early summer this year, but can already be applied with the use of a CSV file.
Laura Golsteijn
Senior Consultant
I am eager to increase the environmental awareness of our society, and I believe that everyone can contribute to a more sustainable world, every day. At PRé we provide companies with both the knowledge and the tools to improve their products and services. I am excited to work for an organisation that is involved in developing sustainable initiatives.