The Footprint of Food: Consolidating Data
The first LCAs were done on rather irrelevant subjects like baby nappies, milk packaging, and looking at whether you should use paper or washable cups for your coffee. Over the years, we came to realize that there are much more relevant areas.

One of these is the environmental impact of food production. Around 2000, PRé was commissioned by the Dutch Government (RIVM) to assess the environmental load of the total expenditure of all Dutch consumers. The graph below clearly shows that food contributes significantly to that environmental load.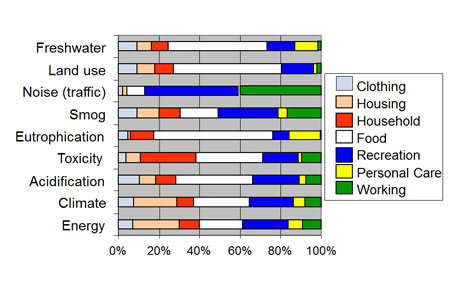 Around the same time, the EU-sponsored EIPRO study assessed the ratio between environmental load and economic value, and found that the food sector produces the highest environmental load per euro. In other words, producing food is the cheapest way to pollute the environment.
Step-by-step Towards A Lower Environmental Footprint Of Food
It's is all too clear that we need low-cost food and that we need more and more of it. There is still a huge number of people that are undernourished or malnourished. With this challenge in mind, it is good to be aware of the next round in the EU product environmental footprint (PEF) initiative. 8 large consortia in the food and drink industry will work together to develop methods for producing product-specific environmental footprints, determine the relevant category tools and, most importantly, develop some sort of scale that allows you to see what the "average footprint" of a product in that sector is, and whether a certain product performs better or worse. This will improve sustainability in the agricultural sector as we stair-step towards reduced impacts.
To do this, the committee needs to assess 14 impact categories, with water and land use being some of the most important ones, especially for food LCAs. However, the land use impact category is a bit of a problem for the LCA community, as the EU has selected a rather novel method based on soil carbon content, and to date LCI databases do not report this. The PEF initiative will only reach its full potential if sustainability professionals everywhere start generating PEFs of their own products for comparison, and that can only happen if they have access to all the data required.
Introducing A New, Innovative LCA Database
As a solution, PRé has now reached an agreement with Blonk Consultants to include a very comprehensive database that, for the first time, does report this parameter in a way consistent with the EU footprint initiative. The database was developed by an international consortium of food producing companies, in collaboration with Blonk Consultants, and combines large amounts of data from the FAO and other sources with the latest ELCD database. In June, we will release this database in SimaPro. This will allow sustainability professionals to use the complete PEF methods on their own products, generating footprints to accurately compare impacts between products. It's not just an excellent solution for the companies in the European PEF and OEF pilots, but also a major step forward for all companies in the food and feed related business wanting to use these novel methods.
Mark Goedkoop
Founder
When I established PRé in 1990 I ran a design consultancy, then I decided to do ecodesign. But, how do I tell the good from the bad? And how can I measure 'eco'? So I started on a journey together with a few pioneers in the emerging LCA scene and gave up designing. I realized then that these same questions need to be answered by any company embarking on the route to more sustainable products and services, preferably in a scientific, honest, and businesslike way. Providing good transparent tools, data, and methodologies to empower organizations to make the transition to sustainability, that is my drive.