The Impact Of A Skateboard: Oath UK
Small companies and start-ups usually do not have the funds to invest in sustainability metrics. This is a shame, since especially start-ups have a big potential to change the status quo. Early insight into the environmental impact of their products can make a big difference. Therefore, PRé has started offering free sustainability assessments to selected sustainable start-ups.

Oath UK was selected for this assessment because of their progressive and sustainable take on making skateboards. Oath UK is an ethical and environmentally focused skate brand that makes skateboards from bamboo.
The Impacts Of The Various Skateboard Parts
PRé did a life cycle assessment on the skateboards Oath makes, and found out that for all parts of the skateboard, the biggest impact comes from the raw materials used. The biggest overall impact comes from the trucks, the metal axles that hold the wheels. The mining and the moulding of the aluminium contributes significantly. The impact from the wheels comes mostly from the metal for the bearings and the polyurethane for the wheels. For the deck, the actual 'board' part of the skateboard, the majority of the impact comes from the land used to produce the bamboo for the deck.
As we see with Oath, it is often the case that the main impacts can be found outside the direct atmosphere of the company: in the raw materials. This emphasises the importance of close collaboration with suppliers to reduce the environmental footprint of products.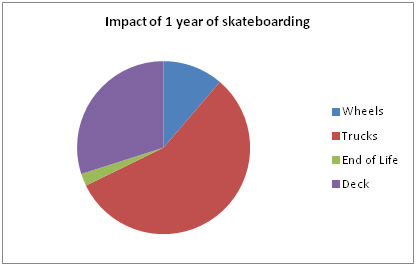 Improvement Opportunity: Using Recycled Aluminium
Because most of the impacts for Oath come from raw materials, we investigated the opportunities to reduce the environmental impact by using more 'sustainable' raw materials. An opportunity to significantly reduce environmental impacts is to use recycled aluminium for the trucks. That would be a worthwhile opportunity to investigate.
We also looked into the wheels. Using recycled plastic for the polyurethane wheels has limited influence on the overall environmental impact. There may be a small potential for improvement in using bio-based wheels from corn or sugar, as long as these wheels have the same weight as the regular wheels. Often bio-based wheels are used for different applications, so they tend to be heavier than the polyurethane wheels .
Using LCA To Create Awareness
This screening LCA perfectly illustrates the utility of LCA. It helped Oath to gain insight in their overall environmental impact and hotspots within the life cycle of their products. It also provided guidance on where the biggest reduction can be made, and identified practical opportunities to reduce the environmental impact.
With this screening, Oath can refocus their commitment to sustainability, and ensure many more years of low-impact boarding.
Anne Gaasbeek
Senior Consultant
I believe every organisation can be triggered to make a positive change, with the right information and action plan. I enjoy helping organisations get there by translating complex sustainability metrics into actionable information.