What does an LCA do, anyway? A 20 Year perspective
What do carbon footprints, water footprints, environmental product declarations, the GHG protocol, and PAS 2050 all have in common? These metrics, B2B communication platforms, and standards all adopt a life-cycle perspective.
Reporting and calculation procedures all require expertise in life cycle assessment (LCA). LCA is a quantitative methodology designed to assess the environmental impact of a product throughout its life cycle — from the extraction of raw materials through to manufacturing, distribution, use, and disposal. LCA is based on the ISO 14040/44 standards, the framework used by many international standards and sustainability initiatives.
There still remains considerable confusion regarding the different applications of LCA. LCA is a methodology, not a silver bullet. Yes, LCA can lead to product transparency, product innovation, and value chain improvements, but only if the findings and insights are integrated across the organisation.
After more than 20 years in the LCA field, PRé has a deep understanding of how life cycle thinking can help businesses. To better communicate the potential information an LCA can provide, we have contextualised our LCA service offerings into three distinct areas: measure performance, review metrics, and communicate performance.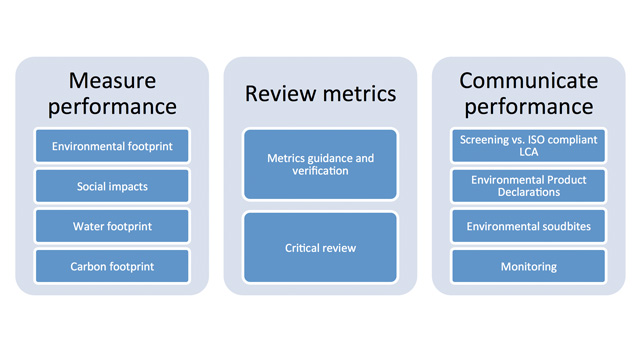 An LCA can help measure your environmental impacts and deliver helpful, actionable results. To carry out a successful LCA, careful data collection and inventory analysis is imperative, as is selecting the most appropriate impact assessment methods. Sustainability metrics must be robust and in line with existing standards, or comparable to metrics used by peer companies. Finally, depending on your goals and target audience, you'll need to select the most appropriate platform to communicate your products' performance, both internally and externally. Some businesses may even want to consider reviewing their current LCA approach, to see if there is room for improvement.
Once you have a robust LCA in place, it is still important to keep up-to-date with the latest developments in LCA methodology, environmental metrics, and sustainability standards and initiatives. This way you will not miss out on any potential opportunities to further implement sustainability into your business.
We at PRé have been passionate about LCA for years and encourage the adoption of life-cycle thinking across industries. Are you interested in learning how your business can benefit from an LCA? Contact us.
Rimousky Menkveld
Rimousky joined the Consultancy team in 2010, as a Technical Consultant. She focussed in product sustainability and supply chain sustainability; and provided Life Cycle Assessment and SimaPro training. Rimousky worked at PRé from 2010 until 2014.