Why circular economy business models need LCA
The circular economy (CE) is an inspirational strategy for creating value for the economy, society and business while minimising resource use and environmental impacts trough reducing, re-using and recycling. In contrast, life cycle assessment (LCA) is a robust and science-based tool to measure the environmental impacts of products, services and business models. Combine both the robustness of the LCA methodology and the inspirational principles of CE and you have a holistic approach for innovation.
Circular economy business models
In a linear economy, goods are designed for a single lifetime and are disposed of at the end of their useful life – in most cases, destined for a landfill. The circular economy is based on a 'systems-thinking approach' that gives rise to different strategies. This systems-thinking approach helps to spot opportunities for 'closing the loops' in biological cycles (restoring non-toxic materials into the biosphere while rebuilding natural capital) and technical cycles (reducing the dependence on virgin materials by restoring products, components and materials into the market at the highest quality possible and for as long as possible; The Ellen MacArthur Foundation, 2012)
In this sense, circular economy challenges the industry to redefine products and services, for example by offering products on a service basis or extending their lifespan, using renewable energy, integrating recyclable or biodegradable resources, promoting collaborative consumption or creating symbiotic relationships where the waste of one industry becomes the resource of another.
How do we know if we are achieving 'circular success'?
One way to determine the success of a CE strategy at the product level is to use the Material Circularity Indicator (MCI). This indicator helps to measure which linear flow has been minimized and which restorative flow maximized for its component materials, and how long and intensively a product is used compared to a similar industry-average product (The Ellen MacArthur Foundation, et al., 2015).
Material Flows for MCI calculation (source: The Ellen MacArthur Foundation, et al., 2015)
To determine circularity, the MCI analyses a combination of product characteristics (see image above):
use of virgin materials – the fraction of virgin materials used in the product
use of re-used materials and recycled content in the product
the efficiency of recycling
the mass of unrecoverable waste that goes to landfill or incineration
a utility factor that accounts for the duration and intensity of the product's use
From this information, the MCI generates a score between 0 and 1. Let me give you an example: A product that utilizes 100% virgin materials is given an MCI close to 0, which means the product is 'linear'. On the other hand, a product that uses a large number of recycled materials has an extended lifespan and a high recycling efficiency will yield MCI values closer to 1. Pretty straightforward, isn't it? Well, in practice, it's not that simple…
Closing loops is not enough
When designers or companies incorporate circular economy strategies in the design phase or development of products or services, one question often arises: which CE strategy is the most beneficial for the environment and my product? At this point, we know that closing loops by itself is not a guarantee for success. For example, using recycled materials could impact the lifetime of a product due to quality loss or add other impacts in energy use or water which cannot be foreseen with the MCI. Reuse of components may add to impacts through the additional transport required for collection, which is also something not accounted for in the MCI methodology.
In this phase of uncertainty about how to choose the best strategy among recycling, reuse, and other end-of-life recovery options, Life Cycle Assessment is a perfect tool to consistently and effectively evaluate these options.
Assessing life cycles to uncover the facts
LCA is a robust and science-based tool based on the ISO 14040/44 standards (International Organization for Standardization, 2006). It is used to assess the environmental impact of products, services and business models throughout their life cycles — from the extraction of raw materials to manufacturing, distribution, use, and disposal. This is why the combined use of LCA and CE allows product developers to actually measure environmental performance, compare circular strategies and ensure a positive environmental balance from the design of new circular products.
Furthermore, LCA requires much of the same data as the MCI does, so these metrics are complementary with relatively little effort. It is important to note that the MCI concentrates on the flow of materials throughout the manufacture and use of the product, explicitly encouraging the use of recycled or reused materials and product life extension. In contrast, LCA focuses on deriving environmental impacts at a life cycle level, where it may not always be an undivided good to emphasize circularity.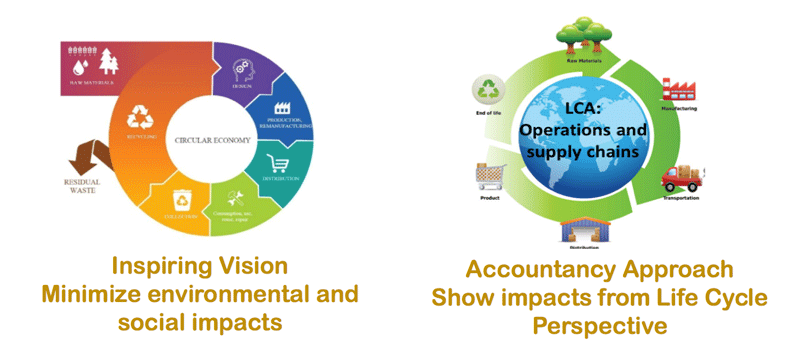 Inspiration and clear direction: the power is in the combination
Although the circular economy strategies are inspiring, there is still no clear view about how to transform the circular economy into mainstream practices. Therefore, combining CE and LCA can be a great way for designers, innovators, sustainability managers, consultants and consumers to look into matters they may not have considered before.
Elsa Valencia
LCA Data Expert
I believe we all have expertise that we can use to do something to improve our relationship with the world, and that we need to use scientific methods and tools that objectively guide us when making decisions. Sustainability and sustainability metrics have been the main topic of my career. I enjoy helping clients from different backgrounds and regions to understand how they can tackle today's challenges with integrated tools that go beyond only technical solutions.