Working on our core values: interview with Alba Espinosa
GUEST INTERVIEW | PRé just recently introduced its ethical values developed together with the SimaPro Partner Network. This is the first outcome of a project that has kept PRé busy in the past year and has represented an additional element of cohesion within the team. The point of origin of this adventure is an idea by Alba Espinosa van de Bunt, in charge of the communications for PRé since 2012. With her, I would like to travel backward starting from the first tangible results of the project to the source of her vision and motivation.
What would PRé like to stand for with its ethical values?
Alba: Through our work at PRé and as sustainability practitioners we are in a unique position to work for a better future. We value this very much. However, I believe that LCA or any other sustainability metric will be only as useful as the purpose they serve. PURPOSE is important. So it is to keep aware of WHY we are doing what we do; to keep aware of the VALUES that matter to us and give shape to our work. We know that we are not alone in this. Our aim with these Core Values is to shape an internal compass that will offer guidance to every one of us while doing our work in business and LCA. By communicating our Core Values, we want to let like-minded people know that they aren't alone either. This might sound idealistic, but that's ok. Ideas are after all the origin of many great things and positive changes.
The partners of your network all commit to the ethical values. Has this also been a shared process?
Alba: Yes, this has been definitely a shared process. That is why we could actually work with so many perspectives, cultures and worldviews.
… and how did you manage to integrate culture and values of partners from over 20 countries?
Alba: I didn't even realize that until we have had this talk, to be honest. But I know now that it was only possible by embracing the diversity and different cultures that are represented in our Partner Network. I like discussion and talking about ideas and convictions. Being myself an integrated Mexican-Dutch, happily living in The Netherlands for many years, I know that combining cultures is very enriching. You learn a lot, become more creative and get to enjoy the best of cultures. The SimaPro Partner Network is a great community of diverse, talented people. So, it was logical to involve them in this process. We started by informal online talks and sharing ideas, and in September of 2017 we gathered in The Netherlands during the biannual Partner Meeting. All partners contributed actively, by presenting cases, ideas and discussing ethical challenges in different world regions. At the end of the meeting we had the basis ready to shape the Core Values document, the visual manifest (see the image at the left), and the Ethics Panel.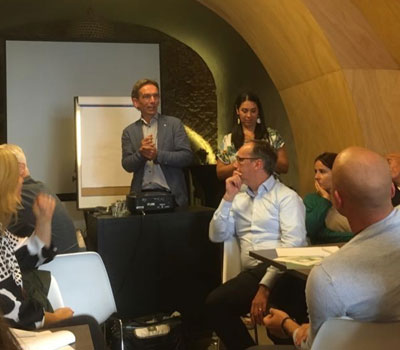 What is the role of the Ethical panel?
Alba: It's an advisory panel with representatives from Italy, Swiss, Sweden, Mexico and of course, the Netherlands. The main role is to support and give advice whenever a partner faces an ethical challenge or dilemma while doing business or working with LCA.
How did you come up with the idea for this project and what was the reaction of management and colleagues to it?
That started during a difficult period for PRé. I've always known that is not the money what motivates people to create and innovate. That became clear in 2015, when we faced some challenges and I felt very strongly the necessity of making clear what were the driving forces that took us to work every morning during that time; what kept us engaged. I also felt that we needed to go back to the 'roots' as a company and define which ideas gave us shape. So I discussed these ideas with our founder, Mark Goedkoop, and we decided to take action. I asked one colleague from every department to form an autonomous discussion group that would come together to discuss and find our common values. The first discussions (in a pub) were extensive, interesting and very fruitful. That was also a learning process. The discussion evolved into a materiality assessment to create our first 'values inventory'. Then again, we knew our impact as a company relies a great deal on our partners. So the next steps to take were clear and logical.

Back to the present days and a final look at the future. How do you expect or hope for this project to develop?
Alba: From the experience we have learned that this will keep evolving, as we will keep learning. So we can't know for sure how this will develop. What I know for sure is that our partners are greatly talented people and very passionate about the work we do and why we do it. We all love the planet, we are all committed to our values and so, I hope that we will succeed in giving this forward to the other talented, committed people in our ecosystems. And I hope that we will all contribute to make the positive impact bigger and bigger.
More about the core values
PRé encourages transparency, collaboration and innovation. We believe that collaboration is the most effective way to effect positive change. We work for a resilient planet, for a strong economy. Together, we can co-create sustainable solutions to make it happen.
About Beatrice Bortolozzo | Environmentalist – Marketer – Communicator
Beatrice is co-founder of 2B, an eco-innovation lab and official member of the SimaPro Global Partner Network, where she uses her experience to help companies develop and implement sustainable strategies, design innovative eco-products and engage stakeholders in sustainability. The Futurelab team welcomes Beatrice's knowledge of environmental marketing, eco-strategy implementation and her love for innovative thinking. After completing her MBA in Milan, Beatrice spent several years outside of Italy, building an impressive marketing career. She worked for multinationals including Reebok Europe and Telfort (BT Group) where her passion for the environment soon led her to specialize in environmental marketing and communication.
Beatrice Bortolozzo
Marketing Expert at 2B Srl
Beatrice Bortolozzo is a Marketing Expert in sustainability. Beatrice is co-founder of 2B Srl (SimaPro partner in Italy). She is specialized in LCA, ecodesign, and environmental marketing. She loves innovative thinking, sustainably creative experiences and has a passion for books, studying foreign languages, and cycling in the countryside.