Product Carbon Footprint standards: which one to choose?
Climate change is considered the number one threat for the future of our planet. To take concrete steps in the direction of mitigating climate change, we need sound standards and methodologies to quantify the impacts of our actions. There are a number of different standards to quantify the carbon footprint of products, each best suited for specific applications and target audiences despite efforts to harmonize them. In this article, we take you through the most important standards and methodologies and give you some step-by-step guidance for choosing the right one for your application.
Why and how would you calculate a carbon footprint?
A product carbon footprint (PCF) is a means for measuring, managing and communicating greenhouse gas (GHG) emissions related to goods and services. A carbon footprint is based on life cycle assessment (LCA) but focuses on the single issue of global warming.
An increasing number of companies quantify the carbon footprint of their products, and for multiple reasons: enhancing market reputation, engaging with suppliers, clients and other stakeholders, complying with (upcoming) regulatory obligations or taking the first step toward a more comprehensive environmental footprint.
The various PCF standards give companies guidance and support the credibility of carbon footprint metrics in the marketplace, which makes them highly beneficial.
A range of product carbon footprint standards
In response to the need for transparency about the greenhouse gas (GHG) emissions of products, several methodologies were developed at different points in time and by different organizations.
Current methodologies may be grouped into two families:
Group 1: Single-issue methodologies, covering only emissions and impacts related to climate change.
Group 2: Methodologies that have a broader scope, covering environmental issues beyond climate change. You can use the indicator for climate change from these methodologies to determine the PCF.
Methodologies belonging to group 1 are:
The ISO 14067 standard. It builds largely on other existing ISO standards for LCA and was published in 2018. It can be considered the international reference standard for conducting PCF.
National standards such as PAS 2050, which was developed by the British Standards Institute (BSI). PAS 2050 came into effect in October 2008 and was revised in 2011. PAS 2050 is widely used and is considered the first carbon footprint standard used internationally.
The GHG Protocol Product Standard. This standard was created by the WRI/WBCSD and published in October 2011. It was developed to be consistent with the first version of PAS 2050, with the difference that the GHG Protocol Product Standard includes requirements for public reporting. The GHG Protocol also provides additional standards for corporate assessments and project-related calculations.
Methodologies belonging to group 2 are:
The Product Environmental Footprint (PEF). This EU-recommended method to perform LCA studies aims to harmonize existing LCA standards. It requires 16 impact categories to be calculated, but some current legislative proposals recommend the method with climate change as sole indicator to report the PCF.
National standards such as BP X30-323-0. This standard was developed by the French government (AFNOR), tested in 2011 and finalized in 2015. Similar to the PEF, it covers a number of impact categories. The climate change indicator can be reported separately if needed.
EN 15804. This is the European standard providing core product category rules for all construction products and services. Like other multi-criteria methods, it covers a set of mandatory environmental impact indicators, including climate change. While all environmental indicators need to be calculated and reported, the climate change indicator can be used to quantify the carbon footprint of the product in scope.
All standards mentioned above are built on the principles established in ISO 14040 and ISO 14044. They also seek alignment with the latest reports of the IPCC. Although the methodologies aren't identical, their developers (BSI, WRI/WBCSD, ISO, AFNOR and the EC) aimed to increase alignment across their methodologies.
All methodologies provide requirements for dealing with specific issues relevant for carbon footprints, including land-use change, (biogenic) carbon uptake and emissions, offsetting, soil carbon stock, green electricity and characterization factors to be used for biogenic carbon.
From the more general to the more specific
Some methodologies are more general, while others are more prescriptive, pushing for increased reproducibility of the calculations and comparability of results. ISO 14067 is an example of a more general standard, while PAS 2050 and the GHG Protocol provide more detailed requirements with less space for interpretation. EN 15804, BPX30-323-0 and the PEF method go even further, providing very detailed LCA requirements. In the case of PEF, strict requirements also apply to the data that can be used (EF-compliant datasets).
For some product categories, category-specific rules are available that comply with the different methodologies.
Which standard should you use?
The increased attention for PCFs and the efforts to streamline carbon footprinting are very welcome on the road to sustainability. However, the sheer number of standards and initiatives can be overwhelming. Unfortunately, there's no simple answer to which methodology you should pick. But there are a few steps that can help.
Step 1: Identify your goal
First of all, you need to have the overall goal of the study clearly in mind. What will the study be used for? Will it be used solely for internal communication or will it be used for public reporting, external green claims or to fulfill legislative requirements? What is the geographic market in which the result will be communicated? These questions are crucial, as the answers might leave only a single suitable method.
Step 2: Map the landscape
Based on desk research, internal (and external) knowledge and input from internal stakeholders, a landscape can be drawn of the relevant developments in your sector and company. This landscape should include topics like existing sector initiatives, product-specific rules, what national and international governments are doing and the internal policies and strategies of your company.
The landscape map will help you define the most relevant developments and opportunities and allow you to set priorities.
Step 3: Follow the decision tree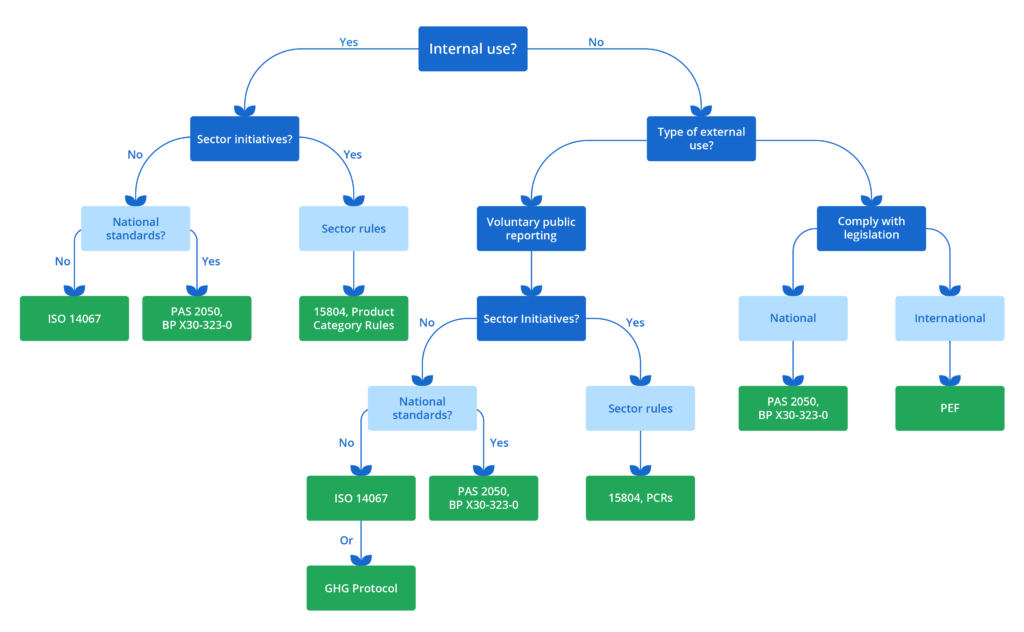 The most appropriate methodology can be very case-specific. Among the different methodologies, we can consider ISO 14067 as an all-rounder: if no specific regulation is to be followed, ISO 14067 can be used as a basis, as the most recent internationally recognized standard available today. An ISO 14067 study may most easily be translated into a broader LCA study that is compliant with the 14040-44 requirements.
If the 14067 standard methodology has insufficient detail, additional guidance can always be found in the more detailed methodologies such as the GHG protocol, the PEF method or the BPX30-323-0. Reproducibility and comparability of carbon footprint studies can only be ensured with the application of strict rules. If that is your goal, the use of more stringent methodologies is more appropriate, such as the product-specific category rules developed in the PEF or BPX context.
Choose the standard that best suits your goal
The steps above can help you choose the standard that gives the best guidance to your company when doing PCF studies and provide credibility to your companies' carbon footprint metrics. Once your goal is clear, each of the solid PCF methodologies described above can help you make your reports business-relevant, drive down carbon, and create new business value drivers.
---
Ready to measure your carbon footprint and develop actionable reduction targets? Find out here how PRé can help your company.
---
References:
ISO 14067:2018 Greenhouse gases — Carbon footprint of products — Requirements and guidelines for quantification (https://www.iso.org/standard/71206.html)
BSI (2011) PAS 2050 – Specification for the assessment of the life cycle greenhouse gas emissions of goods and Services
WBCSD (2011) GHG protocol: Product Life Cycle Accounting and Reporting Standard
EC (2021) COMMISSION RECOMMENDATION on the use of the Environmental Footprint methods to measure and communicate the life cycle environmental performance of products and organisations. C/2021/9332 final
BPX 30-323-0 (2011). Environmental communication on mass market products — Part 0: General principles and methodological framework.
An De Schryver
Senior Expert
I love working in our amazing team, full of competence, broad expertise and motivation. Together we can help companies go forward in the right direction and make a change.
Luca Zampori
Senior Consultant
We are about to live one of the greatest transitions ever: by taking right and informed decisions, we can ensure a safer future for our environment and the well-being of our society. Positive change has a key enabler: we can improve only what we can measure. Companies can rely on PRé to drive their transition to a greener future: together, we will make it happen.