The 2018 Handbook for Product Social Metrics is available now
Product social metrics, also known as social life cycle assessment (social LCA), is the next frontier in life cycle thinking. For products and services to be truly sustainable, it is important that companies minimise both their negative impacts on the environment and on people. The Roundtable of Product Social Metrics, providing guidance for companies wanting to measure their social impacts, is proud to announce the 2018 edition of the Handbook for Product Social Impact Assessment.
What is the Roundtable for Product Social Metrics?
In the Roundtable for Product Social Metrics, facilitated and organized by PRé, around 20 proactive companies have been working together over the last 5 years to establish their approach for measuring social impacts. Their shared vision is to create a widely accepted common methodology that combines robustness with applicability. By working in a Roundtable, they could join forces, build consensus and learn from each other to make headway in this important topic.
Launched at the 2018 Social LCA conference
In September 2018, the current group of Roundtable members presented the fourth iteration of the Handbook during the Social LCA conference in Pescara, Italy. This conference brought together many researchers, business people and policymakers, including high-level representatives of the EU: DG-GROW. During a discussion panel, the issue was raised whether it is time to develop a Product Social Footprint initiative similar to the PEF.
Social LCA moving away from the quantitative approach
Perhaps somewhat surprising in the LCA community, the new Handbook no longer includes a quantitative approach. Instead, all impacts are measured on a 5-point scale. The reason is that the Roundtable could not decide how to even start interpreting quantitative data. What is the value of knowing that a mine has 30 slaves among its workers? Social LCA really is different from environmental LCA. In environmental LCA, reducing CO2 emission by 10% can be a satisfying outcome. Conversely, nobody is happy if we reduce the number of slaves from 30 to 27 – the issue is not the number of slaves, it's the existence of slavery. A company wants to know what a supplier is doing to eradicate the use of slavery and how successful it has been in achieving this, not whether it has or has not reduced the number of slaves.
Many other useful developments in Product Social Metrics
Each new iteration of the Handbook is based on real experiences from companies applying the methodology. In addition to the shift from the quantitative approach to a qualitative rating, the new 2018 Handbook has many other updates that will make it easier and more effective for companies to do a social impact assessment:
Extended practical guidance, from setting goals and scope all the way to the final assessment. Including a handy Quick-Reference guide.
Increased consistency of social topics (impact categories), inspired by a collaboration with the Social and Human Capital Protocol.
A much more realistic procedure for data gathering. Questionnaires are not that helpful for social topics. Who would give you a clear answer if you ask whether they employ children in the workforce?
An increased emphasis on screening for hotspots, to help put effort where it matters most. The BASF case study was especially instructive.
A new stakeholder category, small-scale entrepreneurs, in addition to the existing categories of workers, users and local communities. This new category covers small farmers and what is often referred to as the 'informal sector' of people without a job.
A move away from just measuring compliance with local laws to understanding what a company is doing to avoid causing a social impact – a company that invests in local schools is doing more to prevent child labor than a company that just does not employ children.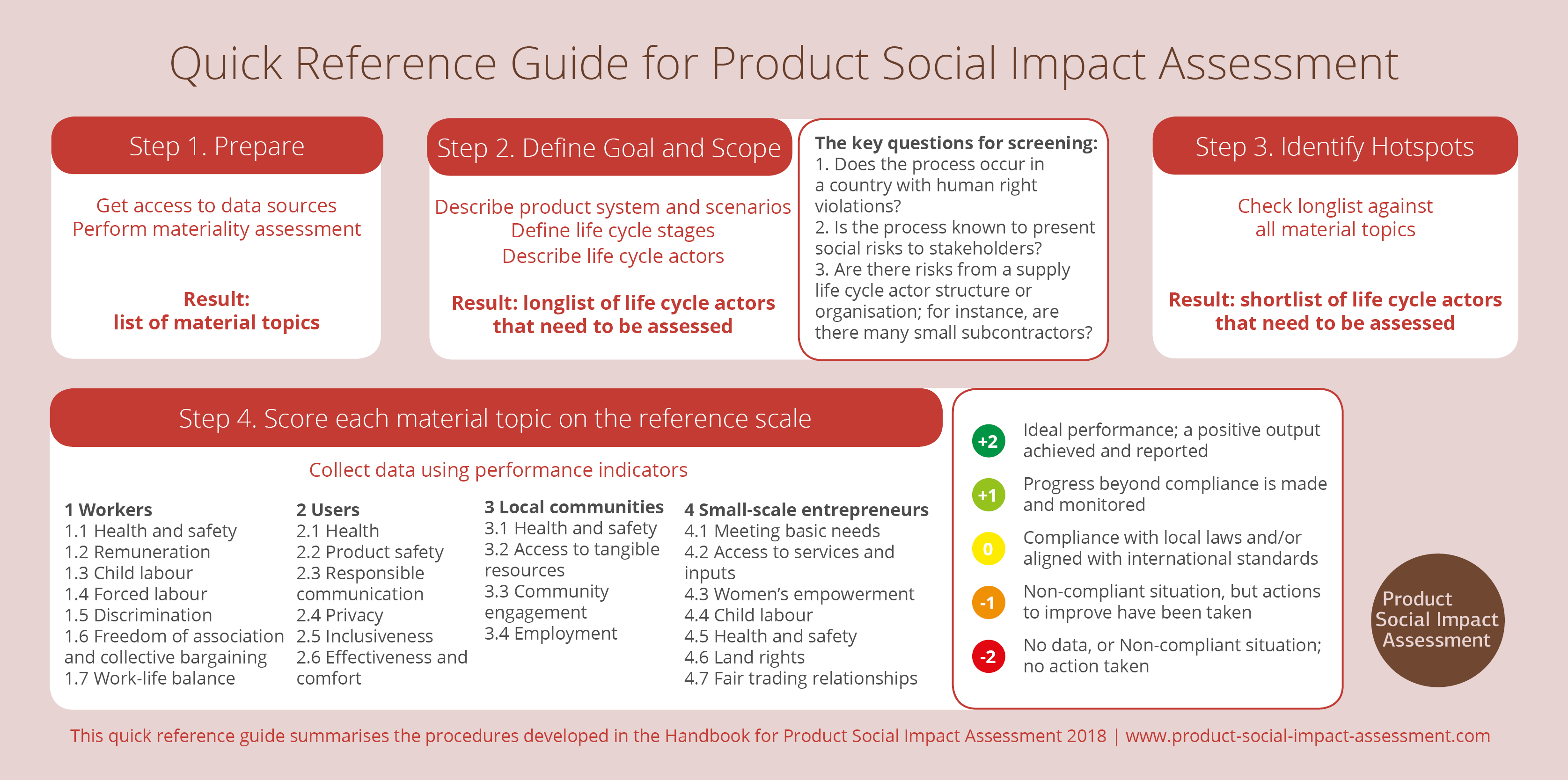 Learn more and get started!
Are you interested in the latest developments in product social metrics or would you like to start assessing your company's product portfolio for social impact? You can download the new Handbook and Methodology report for free from the Product Social Impact Assessment website.

Get involved
The Roundtable is continuously working on cases and developing guidance on how to implement the Product Social Metrics methodology in a company. We are also organizing parallel application roundtables where groups of companies can experience the method in practice by working on a case. To support this, and to make sure everyone who is interested has the right tools to get started, PRé will provide training sessions and in-house workshops. Please contact Mark Goedkoop for more information.
Mark Goedkoop
Founder
When I established PRé in 1990 I ran a design consultancy, then I decided to do ecodesign. But, how do I tell the good from the bad? And how can I measure 'eco'? So I started on a journey together with a few pioneers in the emerging LCA scene and gave up designing. I realized then that these same questions need to be answered by any company embarking on the route to more sustainable products and services, preferably in a scientific, honest, and businesslike way. Providing good transparent tools, data, and methodologies to empower organizations to make the transition to sustainability, that is my drive.