Addressing the next challenge: metrics for biodiversity
The realities of climate change are increasingly taking centre stage in news outlets worldwide, largely due to the alarming 2018 UN IPCC report about global prospects. Now, the same thing is happening for the next environmental issue that needs global attention: biodiversity. On May 6th, the new UN IPBES report hit the front pages of newspapers, with headings like Humans Are Speeding Extinction and Altering the Natural World at an 'Unprecedented' Pace (The New York Times) and Human society under urgent threat from loss of Earth's natural life (The Guardian). For life cycle assessment (LCA) teams everywhere, it is important to start planning your strategy for addressing this challenge.
Global issues compounding each other
While the fact that biodiversity is rapidly declining is not new to many experts in the field, the strength of the report is that the conclusions were endorsed by 132 countries. With this report, UN IPBES is becoming as important as the IPCC, but focusing on biodiversity instead of climate. Of course, it is very clear that these problems are linked. Climate change amplifies and worsens the damage caused by other human activities in a very significant way. Next year, the large IPCC COP meeting in China will also be devoted to biodiversity impacts.
With the new focus on biodiversity, the world is coming to understand the precarious situation of the life-support systems we all depend on. While climate change is an important challenge for these life-support systems, the IPBES report makes clear there is a much wider range of issues that need to be addressed and mitigated for the survival of mankind.
Changing role for many sectors
This has important consequences for many sectors of industry. When climate change was the key challenge, it was relatively easy to point the finger to the fossil fuel industry, who started the climate sceptics lobby as a response. With the focus on biodiversity, a much wider range of economic activities is linked to a catastrophic development that might ultimately threaten mankind.
Agribusiness, especially, is going to see a strong change in how they are perceived. A decade ago, agribusinesses were seen as contributing to the solution for the climate problem if they produced biofuel or bio-based materials such as palm oil. Today, palm oil is no longer allowed in the EU as a basis for biofuel.
However, the IPBES report shows that agri-businesses can still make a contribution to climate and biodiversity, under the right conditions. For instance, natural forests provide biodiversity services and store carbon, and can even be a source of raw materials if managed carefully.
Valuable biodiversity assessments based on LCA methods and data
To tackle the biodiversity challenge, it is important to find a way to measure biodiversity impact. LCA is an excellent candidate. Many drivers of biodiversity losses are already addressed in the framework of LCA, such as land use and transformation, water scarcity and a wide range of emission categories. Of course, LCA is not exhaustive: some drivers touched upon in the IPBES report, such as the spread of non-indigenous species, plastic soup, fragmentation of landscapes and coastal water management, are not yet part of LCA.
Here are four example projects PRé is currently engaged in:
Biodiversity footprint of investments and supply chains. PRé and CREM consultants have been using LCA assets to develop practical tools to screen biodiversity impacts in the supply chain. For instance, the work we are doing for ASN Bank, a medium-sized green bank in the Netherlands, to help them reach their goal of turning their entire investment portfolio into a net positive on biodiversity. We use the biodiversity score from the 2016 ReCiPe method and combine it with the EXIOBASE v3 input/output model. We express the result in square meter lost per euro invested in a company.
Free biodiversity screening tool. We used the same methodology in the IUCN-commissioned Bioscope.info tool. This is a freely available tool where anyone can screen the biodiversity impact in the sectors and countries they are sourcing from.
Seeking common ground. The ASN project was picked up by other financials, like CDC in France, and this prompted an initiative to write a common ground approach and publish a report outlining the requirements and starting points for any methodology in this area.
Positive impacts. A Dutch government sponsored project focusses on the question of how we can define biodiversity-positive impacts: positive against which baseline, using which metrics? A report will be out this summer.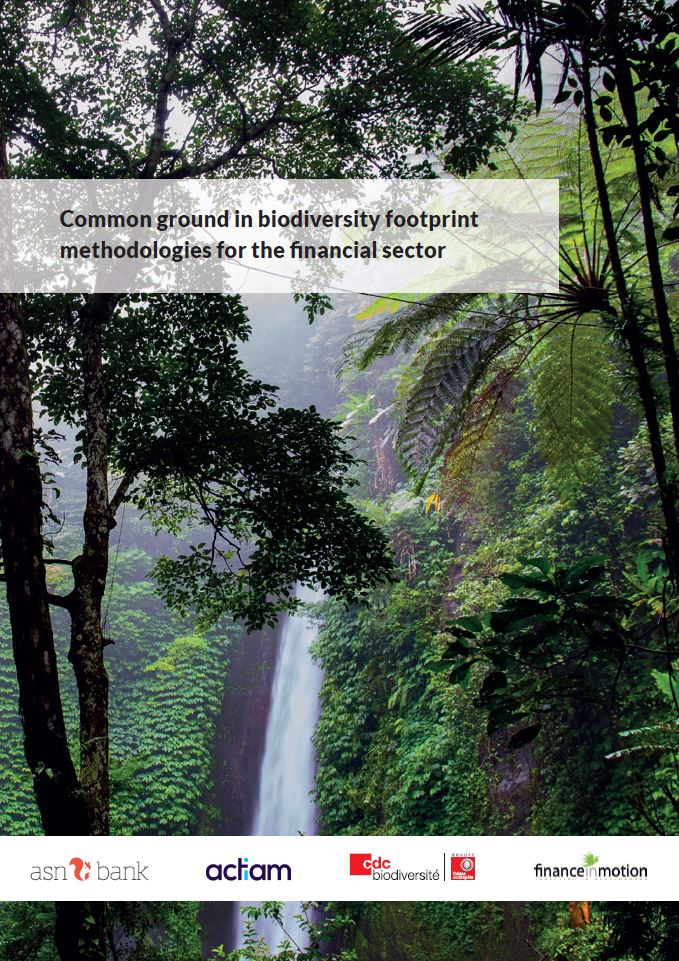 The cover of the common ground paper "Common ground in biodiversity footprint methodologies for the financial sector". Authors: Berger, J.; Goedkoop, M.J.; Broer, W; Nozeman, R; Grosscurt, C.D.; Bertram, M., Cachia, F.. Paris, October 2018.
Prepare for the challenge of the decade
Biodiversity assessment will be a key policy driver for the next decade or so, as it deals with the life support systems we are all depending on. Financial institutions are already starting to assess their portfolio and minimize risks. Food companies are announcing they are selling off activities dealing with meat and dairy production. A recent IPO for the company Beyond Meat, dedicated to meat replacement, got over a billion dollars from the stock market, after which the share value tripled. Something is definitely happening!
To prepare for this, LCA teams should start to see how they can respond to this new challenge. How will you provide a biodiversity metric to your top management? We found that many non-LCA-experts we worked with were very positively surprised with the tools and methods the LCA community has developed. Endpoint models are especially strong assets here, expressing potential biodiversity impacts in a score that is easy to understand. A large range of transparent process and input/output databases are also valuable.
In other words, start thinking ahead now to meet this new challenge head on. We would be happy to guide you through any strategic and practical questions you may have, so please get in touch!
Mark Goedkoop
Founder
When I established PRé in 1990 I ran a design consultancy, then I decided to do ecodesign. But, how do I tell the good from the bad? And how can I measure 'eco'? So I started on a journey together with a few pioneers in the emerging LCA scene and gave up designing. I realized then that these same questions need to be answered by any company embarking on the route to more sustainable products and services, preferably in a scientific, honest, and businesslike way. Providing good transparent tools, data, and methodologies to empower organizations to make the transition to sustainability, that is my drive.