Understanding the landscape for sustainability metrics
A sustainable future for your organization starts by understanding your business's sustainability landscape. In this article, Simon Evitts explains how to start with an integration roadmap and a sustainability metrics SWOT analysis.
Over the past few articles, I've introduced our Metrics Integration Framework. As a service born out of a need to embed sustainability metrics into businesses, it is designed to help extract value beyond the traditional areas of compliance, operational efficiency, and corporate reporting. It builds upon our LCA Expertise (sustainability consultancy services) and software reputation and has become core to PRé's mission. Indeed, we'll soon introduce our new SimaPro software for facilitating sustainability metrics integration, with features that include value chain data collection, performance monitoring, and scenario modeling.
Creating value with sustainability metrics
Business communities generally agree that major global trends present growing challenges and opportunities for business value. Some are easier to access than others, some have higher value potential, but all require a certain degree of sustainability metrics integration in order to identify and engage decision-makers and business processes. I've been heartened by the level of understanding shown by many management teams regarding these trends and the need for business integration. Yet a major issue remains: with so many competing business pressures, how can our clients maximize value in the most cost and resource-effective way?
Integration roadmap to understanding sustainability metrics
This brings me back to the metrics integration framework, as the first step, "Understand," is designed to answer this question. It is essentially a landscaping exercise used to develop the strategic priorities for metrics integration. It helps clients understand where they are and where they wish to go (their urgent needs and future value ambitions). Based on this information, we can provide recommendations on the most effective route — the integration roadmap. In this sense, our process is no different from other strategic planning initiatives, but given the myriad of business types and potential opportunities, we can offer tailored expertise and independent advice in an area that is still somewhat abstract for many companies.
We also find that the exercise and resulting roadmap provide an essential platform for discussion. This comes as a relief to many clients, given their conflicting internal needs and external pressures. Customers and the Sales and Marketing teams need clear and aligned communication, Purchasing would like to broaden policy and engage suppliers, R&D and Marketing teams need to drive innovation and address the key product hotspots, and the Board is concerned about the company's reputation in the face of a growing competitor's sustainability activities. But who and what should be prioritized? Which metrics are needed? And how can they be most effectively implemented?
Structure your landscape with the sustainability metrics SWOT
In order to structure the landscaping exercise, we use a SWOT approach. This process allows us to uncover the strengths and weaknesses of the client's current metrics activities, and the opportunities and threats from competitors, customers, and global trends. Via workshops, individual meetings, and desk research, we focus the SWOT on three core areas, essential for metrics integration:
1. Product portfolio transparency:
This relates to investigating and making visible all sustainability impacts and hotspots throughout the life cycle of all key company products (the portfolio), from cradle to grave. We believe product transparency can transform the way companies think about their business, as it aims to understand the facts, or at least the best available information, as most impacts occur outside of the traditional company boundaries. As a well-established methodology, we advocate life cycle assessment (LCA) as the primary methodological approach and the core of a sustainability metrics system. This system will provide:
Insight into product hotspots for prioritization of improvement areas
Insight for development of company sustainability key performance indicators (KPIs) and life cycle assessment methodology
Necessary information for aligned communication and external reporting, eg. EPDs
Methodology to assess new products, or the impact of a product change
Single (eg. carbon or water) or multimetric environmental assessment. We advocate for the latter to avoid a narrow view of environmental concerns (shifting of burdens), allowing organizations to make well-informed decisions.
Insight into social impact areas (We're looking for new participants to join our Social Roundtable initiative.)
2. Stakeholder engagement
Product transparency is only part of the story. The information gained from more visible product value chains needs to be communicated to and used by various business functions and external stakeholders. This driving action can in turn create business value. Although many different actors are potentially involved in a fully integrated system, we have categorized these into manageable focus areas: Operations, Value Chain, and Innovation. Each area has a need for transparent data, but each has different data requirements and business value opportunities. As such, each will require the engagement of different stakeholders and business processes in order to access that value.

3. Setting meaningful KPIs and targets
The third imperative for sustainable metrics integration is the need to incentivize action, both on a personal and group level. It involves developing and using KPIs relevant to the product or business in question. In the hands of the inexperienced, life cycle assessments can be confusing, because all products will register across the most known impact categories to some extent. To create clarity, the key is to use and report the impacts that truly matter — those that have the largest impact or product/sector relevance, and thereby offer the greatest opportunity to improve performance. However, monitoring performance is somewhat irrelevant if no targets and milestones are in place. The target should match the ambition, which in turn drives the level of activity and creativity. Initially, tentative milestones may be set as a company develops its sustainability competence and learns which targets will challenge employees without being unrealistic and discouraging. More challenging, long-term targets have the effect of driving high levels of innovation as each department must truly 'think outside the box' in order to meet their company's ambitions.
Set goals with the metric integration roadmap
With the landscaping sustainability SWOT performed, the information gathered allows us to identify opportunities and benefits for integrating sustainability metrics. Each opportunity is assigned to the required metrics activities and resources required to implement. Opportunities are then prioritized using assessment criteria, such as time/resources available, business value, internal motivation, and external pressures. The resulting ranking is transformed into short, medium, and long-term opportunity goals, each with associated metrics activities, tools, training, and materials needed for integration. This roadmap provides our clients with a route toward building transparency, competence, use, and communication of sustainability metrics. The roadmap and landscaping report also provides clarity and a common platform for discussion and internal alignment.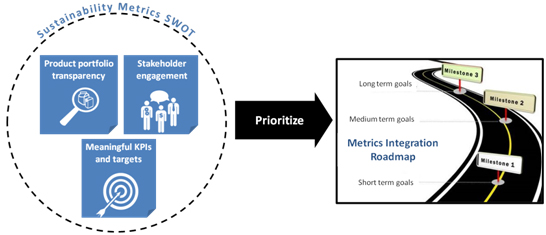 Once aligned, the second step of the Metrics Integration framework can be engaged: To develop the tools, methodology, materials, and planning required to implement the short to medium-term priorities. I'll be discussing these in more detail at a later date.
In the meantime, if you have comments or if you want to get more information about the Metrics Integration framework and how it can generate business value, please contact us.
Author: Simon Evitts