Paving the impact valuation pathway
To really make changes based on sustainability information, companies need to know how to value that information. Today, top management of two sustainability consultancies – Eric Mieras of PRé and Jan van der Kaaij of Finch & Beak – share their united vision of the way forward.
Moving ahead in the decade of delivery
The coming 10 years have been broadly coined as the decade of delivery for sustainability. This focus on delivery requires the ability to hold sustainability to account better than before. Impact measurement and valuation is an emergent approach to bring sustainability into the arena of strategic decision making. It is a systematic way of measuring the impact of the core activities of a company, to manage risks, optimise costs and seize opportunities, and goes beyond the customary reporting and informing. Notwithstanding the power of the concept, merely 31% of companies is systematically conducting Impact Measurement and Valuation. What is holding the remaining 69% back?
The scope of impact measurement and valuation
Impact valuation is a way for companies to gain a more comprehensive, concrete understanding of the value (or cost) of their impacts on society. Impact valuation is a tool companies can use to help identify, measure and value their impact beyond products and profits. This means looking beyond customers and suppliers toward their impact on a broader group of stakeholders that include people and planet. Impacts are measured, quantified and reported in hard figures that can be positive or negative, depending on whether value is being created or destroyed. It is only by measuring these externalities that a true picture of a company's value can be painted.
Impact valuation goes beyond sustainability reporting and toward more systematic prioritisation, collection, and evaluation of data via quantification and monetisation techniques. It is still a nascent movement, but it is gaining momentum as more experts across accounting, finance and sustainability advocate it as a means to elevate sustainability standards in business, equip companies with tools for the task, and hold them accountable for their performance.
Source: The Sustainability Yearbook, S&P Global, 2020
Going from reporting to actionable insights takes hard work
Most companies have their ESG reporting in place. And, for sure, most companies also have their targets set; the majority of companies even report on these targets annually. However, to achieve these ambitious targets, companies will have to operationalise their objectives in the business and engage with suppliers, customers and other value chain partners.
That is easier said than done. Impact valuation is time-, knowledge-, and resource-intensive. The metrics that could fuel the business to take action are often missing, losing companies the opportunity to reduce impact, create value and decrease costs, often at the same time. Mastering the hotspots within the value chain and collecting the required metrics and information in a consistent manner takes dedication and time. At the same time, businesses are moving rapidly to improve their societal impact. As an example: in 1990, delivering letters still accounted for 70% of the revenue of French postal service La Poste; in 2020, it will be less than 20%. In 2018, La Poste introduced a new service in its quest to find additional profit from its 73,000 postal workers. La Poste's workers are now being paid to visit elderly people on a weekly basis, before sending updates to concerned relatives.
Example: Developing the business case in logistics
For a logistics service provider, an impact measurement and valuation study was conducted for two of their main activities: reverse logistics and reduced packaging. Within 10 weeks, a strategic framework for impact measurement and valuation was compiled and used to assess the social, economic and environmental impact of these activities. One of the concrete outcomes was that the best-performing options from an environmental point of view also had the highest margins, thus creating business value and reducing risk at the same time. Next to that, they found that their top 10 clients covered almost half of the total environmental impact of these activities. By focusing on process optimisation together with these top clients, this logistics provider is set to make big improvements on lowering environmental impact with a profound business case.
Reducing your workload by creating a framework
Pivotal in the collection and application of useful data is creating and maintaining a framework to have metrics available for daily decision making. This framework provides insights in not only the environmental, but also the financial and social impact to have the complete picture. Additionally, the framework is an excellent tool to increase efficiency in what can be a strenuous project – as the single source of truth for all teams within your company, providing them with the insights they need.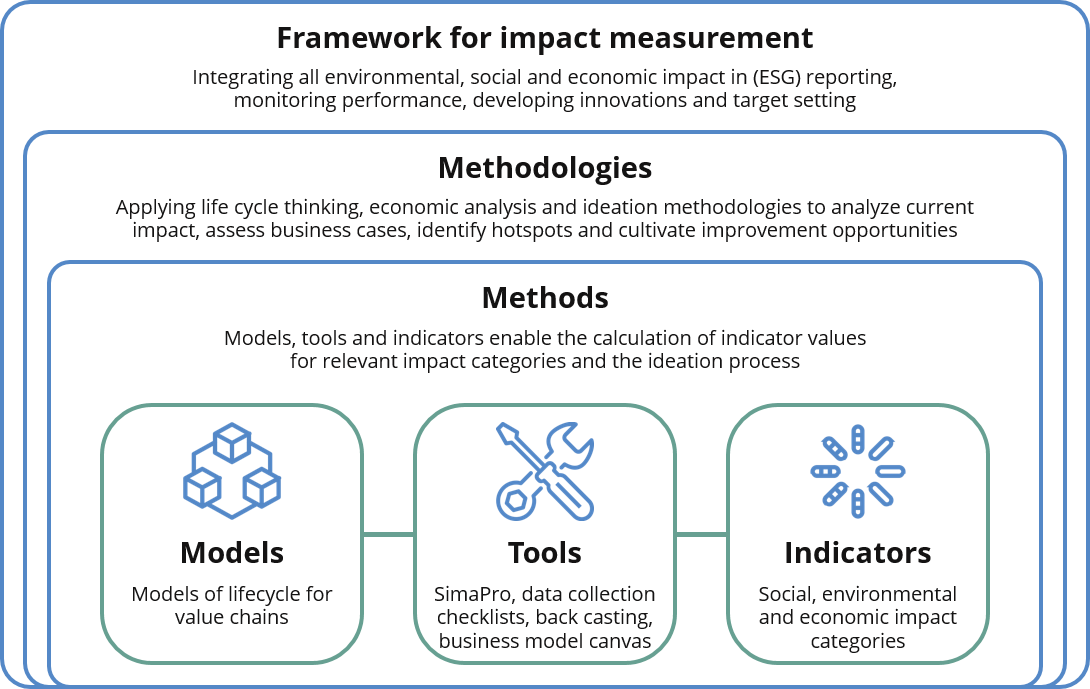 Adapted from: Sala S, Farioli F and Zamagni A (2012) Progress in sustainability science: lessons learnt from current methodologies for sustainability assessment: Part 1. The International Journal of Life Cycle Assessment 18(9). The International Journal of Life Cycle Assessment 9. Springer Science and Business Media LLC: 1653-1672. DOI: 10.1007/s11367-012-0508-6.
In summary, the framework for impact measurement is an indispensable tool to pave the pathway to continued impact valuation that helps embed sustainability into vital business activities. If you too are looking to build a strategic framework for impact measurement and valuation to accelerate your sustainability programme, feel free to contact us.
To learn more, join the webinar "Practical Application of Impact Valuation" on May 19. You will discover how to integrate environmental and social impacts into business cases and strategic decision making with Eric Mieras from PRé Sustainability and Finch & Beak's Jan van der Kaaij.
Eric Mieras
Managing Director
Sustainability is all about impact. Positive impact makes you meaningful. But first you have to know where you are making an impact and where you can create shared value. That's where PRé comes in. Pinpointing your impact is an essential starting point for taking joint action with people and organisations in your ecosystem. The combination of sustainability and social business can make a real change in the way we do business.