Trying to unravel the environmental footprint of e-commerce
For most of us, buying products and services online with a simple click of a button has become part of everyday life. However, the possibility of buying things anywhere and at any time comes at a cost that is often hard to see and understand. How can we help consumers understand the environmental implications of e-commerce? What are good ways to support informed decision-making and, hopefully, lower the environmental footprint? In this article, we're sharing key findings of a study for the European Parliament.
E-commerce investigated by the European Parliament
PRé Sustainability, VVA Group and Bruegel did a study requested by the Internal Market and Consumer Protection (IMCO) committee of the European Parliament. The overall aim of the study was to understand the role of e-commerce for the European Green Deal. The study covered various topics, which we'll briefly go into in this article.
The reason for this study is clear: e-commerce – the buying and selling of goods and services online – has seen a rapid growth over the last 10 years, rising from a 13% share of turnover of all EU-27 enterprises in 2010 to 20% in 2021. The Covid-19 pandemic has only accelerated this trend. It has become difficult to imagine a life without streaming music and films, and ordering products online in a matter of seconds. E-commerce is also further globalizing our economy: one third of all consumers have shopped with EU traders outside their country of residence, and around 22% from sellers in non-EU countries. By 2025, it is expected that every European customer will spend 1000 EUR per year on fashion items online.
E-commerce is changing the business and environmental landscape
With the growing influence of e-commerce, business models have become increasingly blurry: companies sell products online, while often also providing services, and operate either fully digitally or in hybrid blends of physical and online realms. The barrier to purchasing online is often significantly lower than buying it in a physical store, which leads to new purchasing patterns.
This trend has implications for the environment. Convenient return policies allow consumers to buy more products and subsequently returning most. But even then, returned or unsold goods are sometimes deliberately destroyed to create storage space for new better-selling goods. This leads to a lot of overproduction and a major waste of resources. The additional packaging, transport and delivery, energy consumption, and other aspects, are all affecting the environmental footprint of e-commerce.
Some traders have responded to sustainability concerns by genuinely offering more eco-friendly and sustainable choices and switching to more sustainable practices. Others, however, are less transparent in their approach, leading to less reliable information being provided to consumers. It is increasingly difficult for consumers to navigate the landscape and make informed decisions when buying online.
How is the footprint of e-commerce currently assessed?
Currently, there is no single approach that is systematically applied to capture the environmental footprint of e-commerce. Instead, there are roughly three categories of approaches, used by differing actors. At times, the approaches can overlap. Academia and the scientific community mainly compare the footprint of retail channels (traditional vs. online or hybrid) with a focus on logistics and distribution. The scientific community and policymakers mainly use official standards and frameworks, such as for ESG reporting, focusing on the footprint of products or organizations, not specific to e-commerce. Industry and the commercial sector mainly use certificates and indices to express certain characteristics of their product or services.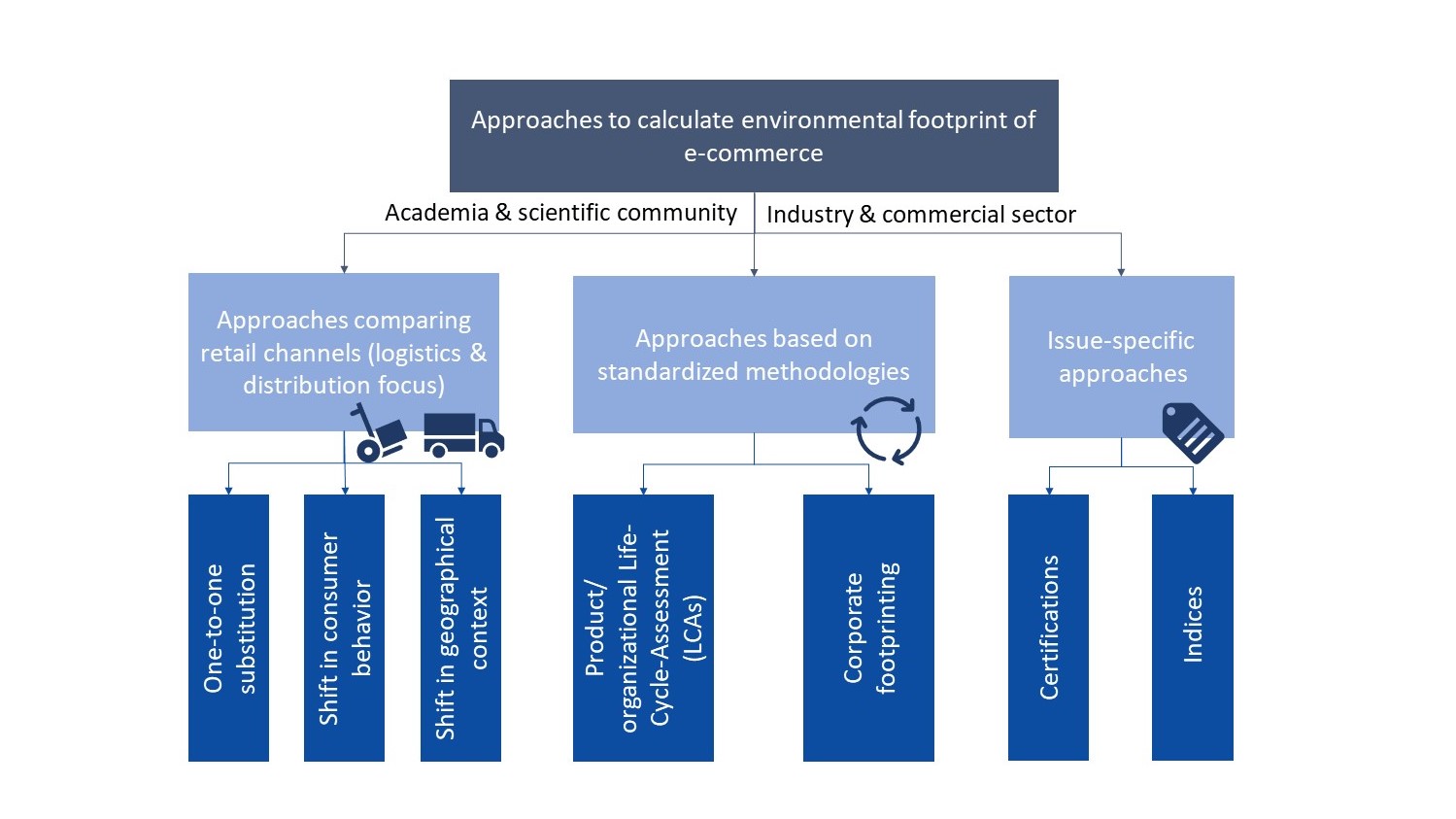 How sound are the assessment methods?
During the study, we evaluated the scientific soundness of the identified approaches with six criteria in mind. For an assessment to be sound, it needs to:
Be based on internationally recognized methodologies or standards, or established by public authorities
Be third-party verified
Be based on life cycle thinking and cover the full life cycle
Cover a wide range of environmental indicators, beyond climate change (CO2-equivalents)
Address specific aspects of the e-commerce context (e.g. packaging, logistics, returns)
Be transparent, with easily accessible underlying data
We found the majority of approaches insufficiently sound for assessing the environmental footprint of e-commerce. The soundest assessments were found within the category of product or organizational life cycle assessments. The least sound applications were found among certification schemes.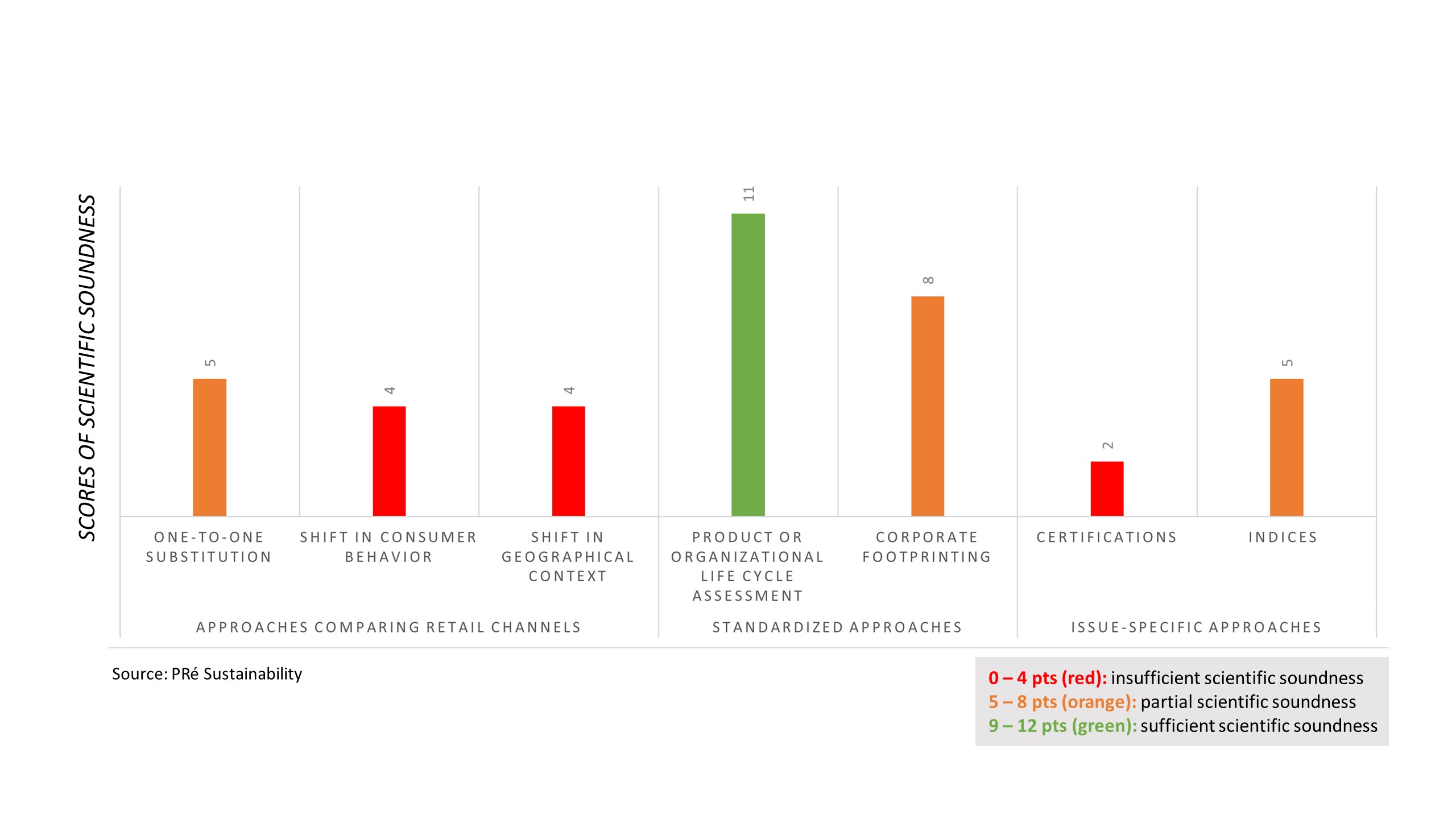 Improving the sustainability of e-commerce
So, how do we contribute to more sustainable production and consumption of e-commerce?
We identified five main areas within the production and consumption life cycle that can help protect the consumer and enhance the sustainability of e-commerce. Various efforts can be implemented at the production stage, the direct engagement with the consumer during online shopping, the logistics stage, the use phase, and the end-of-life stage.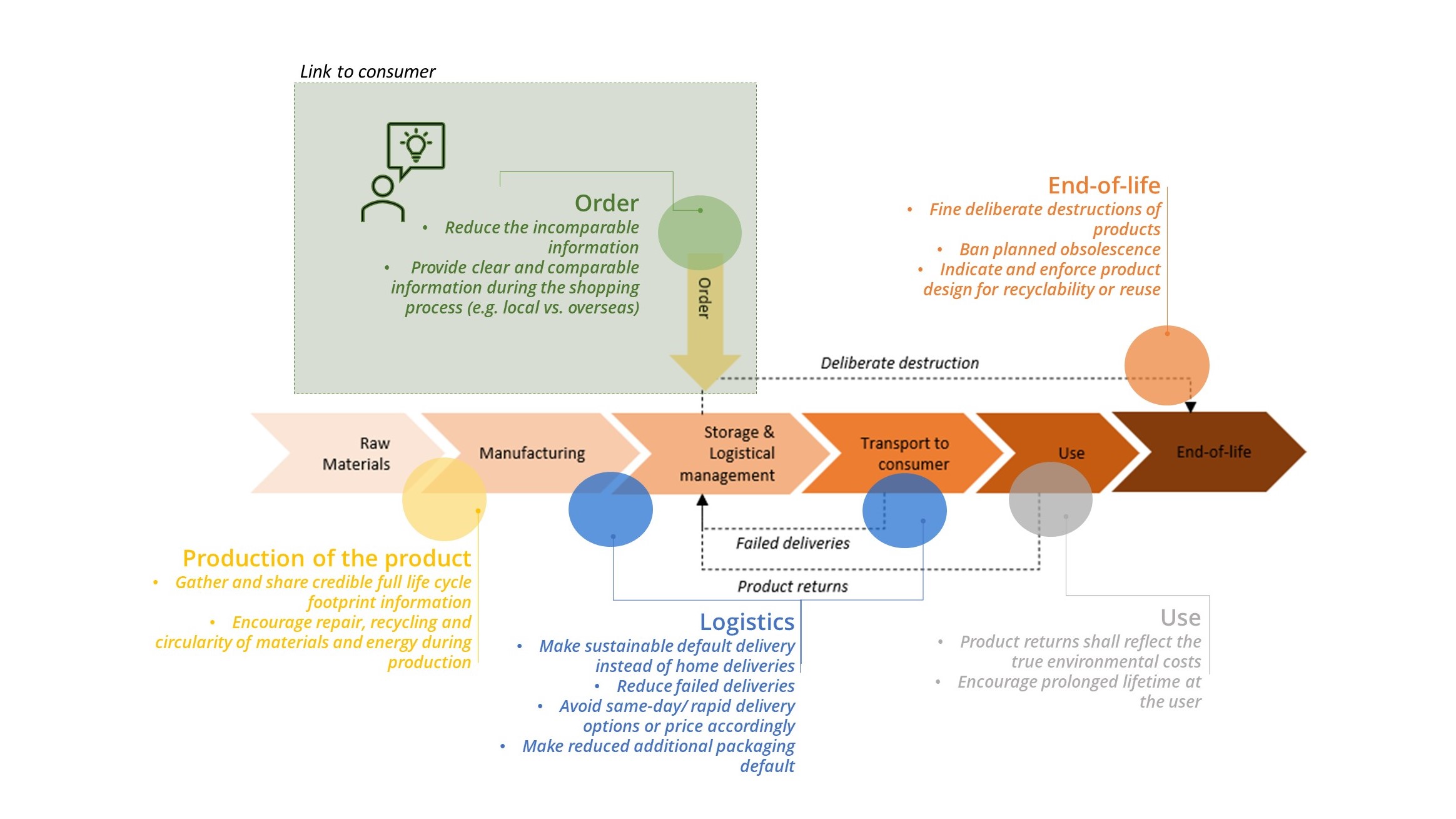 Policy advice to better inform consumers
Right now, there isn't enough scientifically sound and easy-to-understand information available to inform consumers about the environmental footprint of e-commerce. That's why the study presents four broader levels of policy recommendations to enhance consumer protection and improve the environmental footprint of e-commerce:
Ensure compliance with existing legislation in the digital space, such as the Digital Service Act (DSA), which mandates disclosure and other information duties to protect the consumer.
Improve information provision and transparency to enable more informed decision making.
Incentivize and nudge consumers and businesses to act more sustainably (this includes incentivizing repairs and reuse through more circular business models, making more sustainable delivery the default, etc.)
Ensure that information on environmental impacts and underlying methodologies are scientifically sound, harmonized, and transparently and easily communicated to the consumer
The digital space and e-commerce offer opportunities to use digitization to increase the sustainability of commerce, if it is done in an efficient, transparent, and harmonized way. E-commerce can play a crucial role in enhancing the circular economy strategy within the European Green Deal but has to be supported by targeted policy and legislation.
---
Did this article spark your interest in the topic? Find the full study here:
Marina Dumont
Consultant
We live in highly interconnected systems. By using science and tools, we can learn to understand the dynamics between those systems – and what we can improve and where to do better. I strongly believe that we need interdisciplinarity to solve today's challenges: improve how we deal with our environment, and by that improve our economy and our society. We need to take responsibility into our hands and change the status quo.