How SimaPro Explore helps you to design and develop sustainable products
SimaPro Explore, the latest module in the SimaPro online platform, is a powerful application for assessing alternative product configurations and finding improvement opportunities to drastically reduce the environmental impact of your products. Especially in the hands of people with in-depth manufacturing knowledge, such as product designers and heads of production, SimaPro Explore's detailed analysis and comparison features can help achieve big improvements in product sustainability in a short time.
In-depth control over materials and processes
Sustainability is a complex topic. That means it's easy to think that you are choosing a sustainable alternative, but not that easy to know if you are. Therefore, science-based tools to compare the effects of different design choices on sustainability are critical. Both for companies who are pro-actively working towards reducing their environmental impact and for companies who are looking for the most effective way to stay compliant with the ever-changing regulatory landscape around sustainability.
With SimaPro Explore, PRé is now offering two tools to do so. Our older module, SimaPro Share, was designed to understand and improve hotspots in your product's life cycle, and better communicate about environmental impacts with coworkers. In contrast, SimaPro Explore was designed to explore product design alternatives in much more detail – from simple design tweaks to complete redesigns with all new materials. This new module puts the power to make more sustainable changes in the hands of those who can truly make use of it: the people who know their products the best.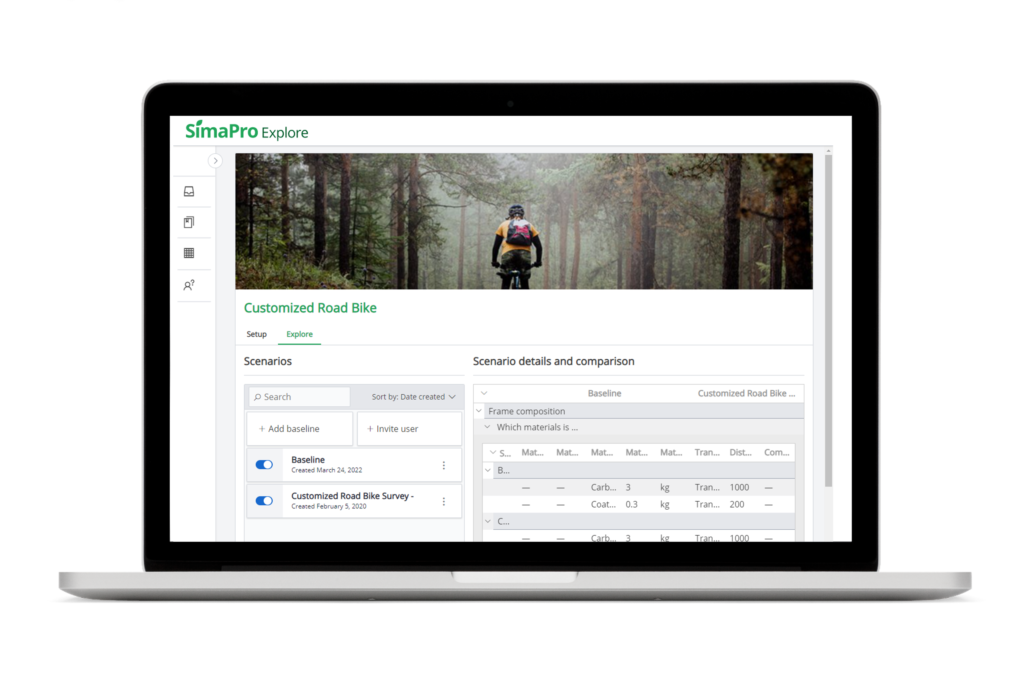 4 ways SimaPro Explore helps you make a difference
Combining available expertise. In many cases, product design and manufacturing setup is a complex web of decision-making, with many people functioning as the leading experts on specific aspects. With SimaPro Explore, it is easy to combine this expertise, as your various coworkers can all share their input on their field of expertise. That means the final scenarios or product comparisons have been thoroughly vetted and are based on real-world knowledge.
Measuring the impacts you care about. The LCA practitioner who will set up SimaPro Explore for you will specifically include what you consider important to your company. This allows you to dive into various impact categories you find most relevant, or select them from an overview. You can do detailed analyses and get in-depth insights into a wide range of topics:
climate change or water use?
impact of materials or energy?
reducing use-phase impact or improving recycling?
or any combination of the above, and more.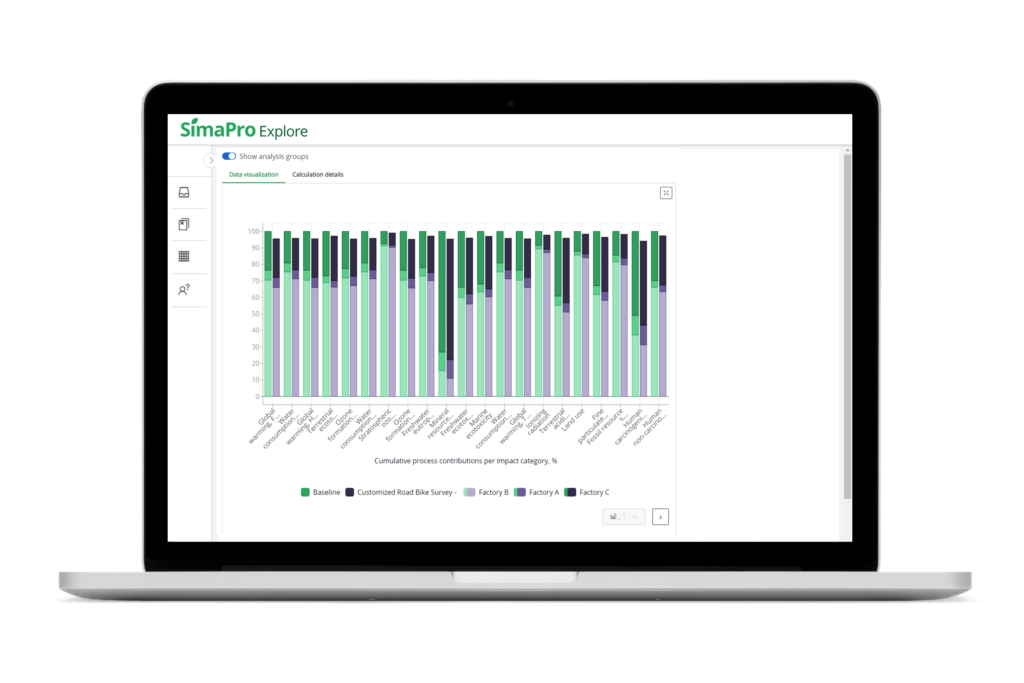 Easy scenario comparison. SimaPro Explore supports all possible scenarios, from complete product and manufacturing process redesigns to perfecting something in fine detail. Even though the possibilities are endless, SimaPro Explore is a fast, powerful and efficient tool to compare predefined scenarios, supported by your LCA practitioner. With a few mouse clicks, you can compare and contrast scenarios and see clear, well-substantiated reasons why one scenario outperforms the other.
Practical impact within reach. SimaPro Explore takes sustainability from the visionary to the practical. Of course, you can use it to just design a better product. But you can also leverage the power of LCA with Explore to tackle very concrete issues:
redesigning a component of the product and assessing the impact of the redesign
finding the most sustainable alternative product configuration
continuously monitoring sustainability effects during research and development for new products, services and portfolios
How does it work?
At the heart of SimaPro Explore is a full LCA model, built in SimaPro by an LCA practitioner. An LCA practitioner will also set up your Explore project, link it to the LCA model and create a questionnaire that enables the creation of alternative scenarios. At this stage, the LCA expert considers your specific needs, so you can make all the changes and substitutions you want and compare the results to the baseline. With SimaPro Explore, Business users can configure scenarios by changing specific inputs (such as replacing steel with aluminum) and compare scenarios by assessing their impact among different impact categories or specific analysis groups.
There are two main ways to get to the initial full LCA model:
An LCA practitioner can build it for you from scratch. This is common for customers who are looking for a tool to do ongoing assessments on products, including new developments in their design.
An LCA practitioner can reuse an LCA model you previously commissioned. This is a very effective way to use your previous investment to drastically lower the impact of your products, and to take that information with you in future iterations of products and manufacturing methods.
LCA practitioners with a SimaPro Expert user or Power user license package have direct access to SimaPro Explore. For Business users, the license costs are € 950 per user a year.
---
Would you like to see SimaPro Explore in action?
Watch our demo video!
Reinier Martijn Zwiep
Product Management Team Lead
Knowledge is a beautiful asset. It got us as a society to the high level of welfare and well-being we have today. This growth did come, however, at a serious cost for our planet. Luckily, we can utilize the powerful tool of knowledge once again, transform our way of living in a more sustainable way. At PRé, we help organizations to undertake this transformation based on facts and knowledge.