The SDG series: evaluating Sustainable Development Goals 13-17
Today, we're looking at the progress made toward the final United Nations Sustainable Development Goals (SDGs): climate action, life in water and on land, peace and partnerships. Despite the progress described in the previous two articles, the SDGs discussed in this last part of the series still leave much work to be done.
SDG 13: Climate action
In good news, to this date, 187 countries ratified the Paris Agreement: an agreement within the United Nations Framework Convention on Climate Change (UNFCCC) that aims to limit global warming this century to no more than 2°C. However, global emissions are still rising. If we rely only on the current climate commitments of the Paris Agreement, temperatures can be expected to rise to 3.2°C by the end of this century . This means that what we are doing now, is not enough to limit the temperature to the goal of the Paris Agreement.
SDG 14: Life below water
In relation to life below water, ocean acidity has increased by 26% since pre-industrial times, and an even higher increase is expected due to rising CO2 emissions. The decline in fish stocks appears to have stabilized. On a brighter side, 104 of 220 coastal regions improved their coastal water quality and the extent of marine protected areas has doubled since 2010.
SDG 15: Life on land
Of an estimated 8 million animal and plant species, around 1 million species are threatened with extinction . According to the Intergovernmental Science-Policy Platform on Biodiversity and Ecosystem Services (IPBES), the current rate of extinction is already tens to hundreds of times higher than the average rate over the past 10 million years, and it's still accelerating. Over 75% of the land, 40% of the oceans and 50% of rivers are transformed and degraded for agriculture, fishing, mining, infrastructure and urban areas . Forest area is still declining, albeit at a slower rate. The size of protected key biodiversity areas is growing, but not fast enough to halve biodiversity loss and reach the goal.
SDG 16: Peace, justice and strong institutions
Although efforts to protect human rights are increasing, the number of refugees due to conflict exceeded 70 million: the highest we have seen in almost 70 years. Furthermore, no substantial advances have been made towards ending violence, promoting the rule of law, strengthening institutions at all levels, or increasing access to justice (UN, 2019). We are still a long way away from reaching goal 16.
SDG 17: Partnerships for the goals
SDG 17 is a meta-goal, with the goal to achieve support for the SDGs. That support is gaining momentum. For instance, the share of people with access to internet is increasing, which provides a prerequisite for a more inclusive global information society. Personal remittances are at an all-time high ($ 689 billion), this is an indicator for the mobilization of additional financial resources for developing countries. However, developmental aid is declining.
Conclusion: increased effort is required
Looking back at the previous articles in this series (part 1 and part 2), we can see different categories in relation to the progress. We didn't reach any of the goals yet, but for some of them, we can say we are moving in the right direction. Others show mixed progress for the different indicators, and some are not on track, but at least they are clearly on the political agenda. For others, we are even moving away from the target. The categories and related SDGs are summarized in the illustration below.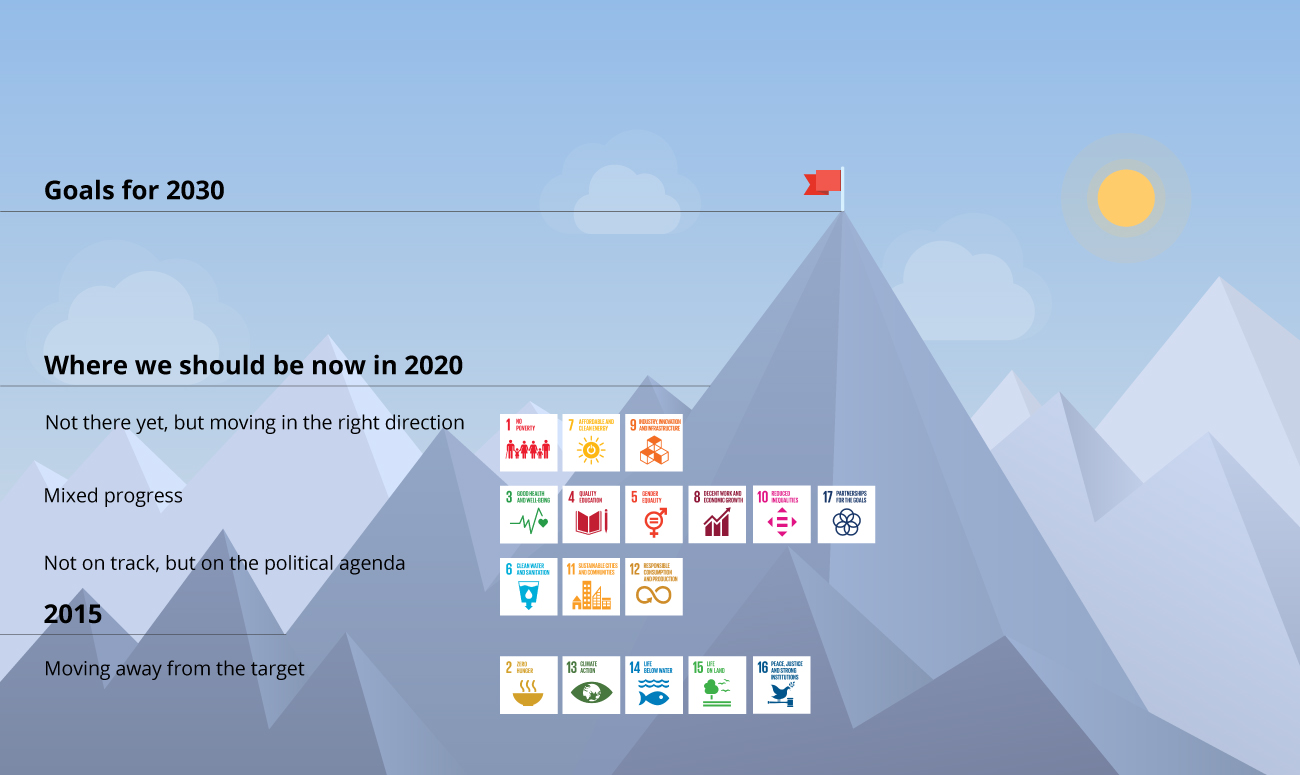 ---
Turn SDG awareness into SDG progress
Although we have seen increased awareness and adoption of the SDGs by governments, NGOs and companies, this series shows that increased effort is required to reach all SDGs by 2030. Do you want to know if your efforts are indeed contributing to progress? You can still join our SDG project. For more information, you can watch our webinar recording or read this article. If you are interested in participating, please contact us to find out more about how it can help you make a difference.
Daniël Kan
Expert
I believe that incorporating sustainability in every decision we make, will have a positive impact on our lives. In order to make informed decisions, we need to make reliable information accessible for everybody. I want to provide information to support people's needs. Making a positive impact is what motivates me most!
Rosan Harmens
Consultant
I'm enthusiastic about working with life cycle assessment because it provides a structured solution for analyzing the impact of products. Thereby, it is an essential starting point for making improvements, coming up with innovative solutions, and driving change. And change is needed. We cannot keep taking from the planet and future generations as we have been doing over the last few decades, without giving back.