Communicating LCA results in the colorants industry
For Holland Colours, a manufacturer of colorants and additives for the plastics industry, PRé helped communicate their life cycle assessment results to employees and other businesses in the value chain in a clear, straightforward way.
About
Colorants and additives play a large role in the plastics industry – they help create the vast variety in plastics that is available today. And while they may only constitute a small percentage of the final weight of a product, the various additives and colorants contribute significantly to the final product's environmental performance.
Holland Colours, a manufacturer of additives and colorants for the plastics industry, place a high value on sustainability. They conducted life cycle assessments (LCA) for several of their products, to understand how choosing the right colorants and additives can improve the environmental performance of the final product. PRé was involved to help Holland Colours put these findings into context and translate them into simple but meaningful terms.
Challenge
Sustainability has always played an important role in Holland Colours, and LCAs have been conducted on several of their colorants. However, interpretation and analysis of LCA results can be a challenge, especially without prior LCA training and knowledge. Therefore, Holland Colours requested PRé Consultants to support the internal communication and understanding of LCA results by putting them into context.
Solution
PRé used two solutions to best interpret the results of the Holland Colours LCAs, as shown in figure below.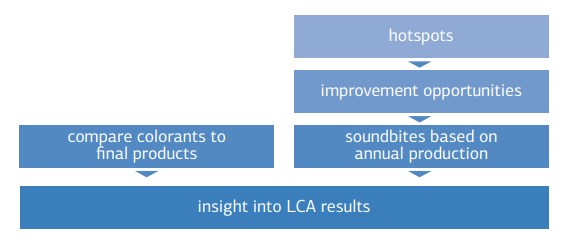 For the first solution PRé determined the effect of each colorant on the environmental impact of a relevant final product. Comparisons showed the colorants could contribute to a lower environmental impact of the final product.
The second solution started with investigating the cradle-to-gate impact of each colorant in detail to determine the main contributors to environmental impacts. Based on these hotspots, improvement opportunities were identified, which could then be expressed in soundbites. Soundbites are used to translate data in simple yet meaningful terms, tangible for those without LCA knowledge. These soundbites were based on annual production volumes. To make sure possible improvements wouldn't have negative trade-offs, the decreased impact on one environmental effect (for example, climate change) is being cross-checked with potential impacts on other effects (for example, eutrophication).
Benefits
The first solution provided Holland Colours with insight into the significance of the low environmental impact of their colorants. The second solution provided an insight into potential opportunities.
This process of contextualizing LCA results drives the following value:
Improve internal communication: Communicate and explain LCA results clearly to the organization.
Substantiate B2B communication: Provide awareness to the value chain of the low environmental impact on the final products.
Understand the relevance of making changes: Gain confidence in potential opportunities that could result in further reduction of environmental impact.