Taking the next step in sustainable footwear
Each industry and sector has its unique requirements. To scale up the availability of life cycle assessments (LCA) and make LCA more accessible, it is important that more tools are created that serve the needs of specific industries – at affordable prices. The Eurofins BLC Footwear Impact Calculator is one such tool, giving footwear companies reliable access to LCA results to improve their current product lines and develop new ones.
About
Eurofins BLC is dedicated to leather, footwear, chemicals, and leather product testing. They provide expertise on the supply chains of leather and synthetic material for the footwear sector. Eurofins BLC offers sustainability services to improve the transparency, traceability and efficiency of supply chains.
Challenge
Traditional life cycle assessments are time-consuming, costly, and require expert LCA knowledge. Within the footwear industry, Eurofins BLC identified that clients need to be able to assess the environmental impact of entire footwear product ranges in a quick and reliable way. With this need in mind, Eurofins BLC approached PRé with the request to create a custom sustainability tool that can support footwear businesses in calculating their impact and taking the next step to achieve their sustainability goals. The result of our collaboration is the Footwear Impact Calculator – a user-friendly web application, powered by SimaPro.
Solution
The Eurofins Footwear Impact Calculator is an easy-to-use and cost-effective web-based tool that estimates the environmental impact of the entire life cycle of footwear, generates reports of results, and stores an overview of completed assessments.
The tool solves one of the most pressing problems in LCA studies: high costs. A single streamlined assessment in the Eurofins Footwear Impact Calculator costs a fraction of a traditional full LCA. The cost per assessment goes down even further when bought in bundles. For large high-volume usage, custom pricing options are available.
The other pressing problem this tool solves is the time spent per assessment. Input into the tool takes around 10 minutes. The results and report are generated in under 2 minutes.
The Footwear Impact Calculator requires no prior LCA knowledge. It accommodates users with limited data by providing the option to use average data gathered by footwear experts at Eurofins BLC, which reduces the overwhelming amount of information needed in traditional LCAs. Users who do have access to a precise level of detail about their product can choose a higher level of product customization.
Not only can the Footwear Impact Calculator assess the impact of existing products, it can also aid footwear companies in designing future products. The low cost of the tool allows them to assess the product's impact before committing to spending time and resources on manufacturing and distribution.
The LCA model behind the tool was created by PRé and uses principles of the draft product environmental footprint category rules (PEFCR) for apparel and footwear, a standard set by the European Union. The tool goes through periodical technical and methodological updates to be in line with the latest standards. The reliability of the model is top notch, built with knowledge from LCA and footwear experts. The data it uses comes from the user directly as primary data, or from renowned databases such as ecoinvent (secondary data).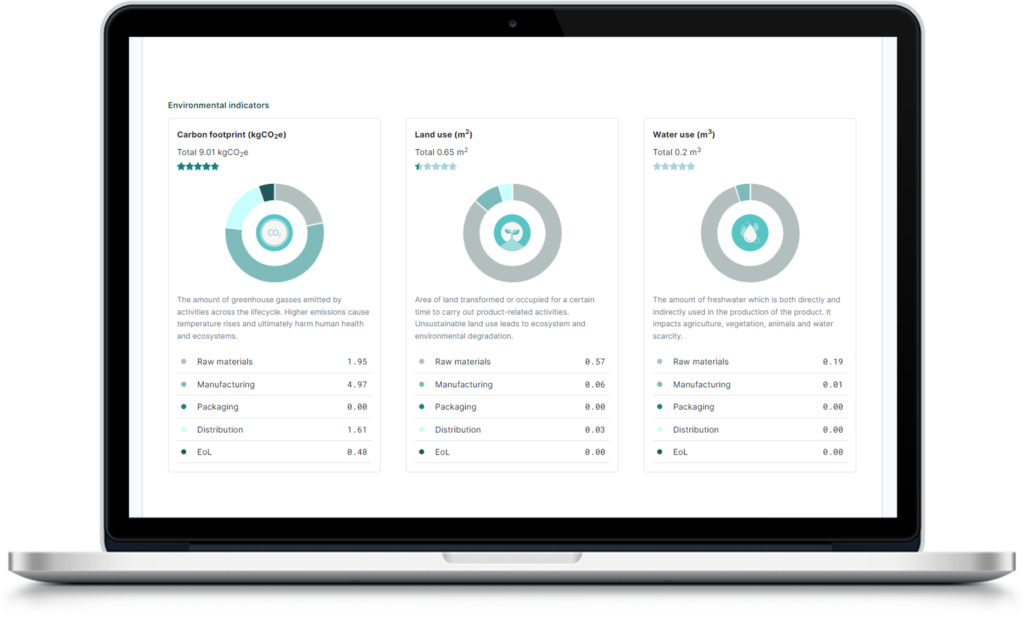 Benefits
The benefits of the Footwear Impact Calculator are:
It is web-based – no software required
It is inexpensive
It completes an assessment in minutes
It provides actionable data
It can be used for existing products and for designing future products
It does not require LCA expertise
It is available as a 'pay-as-you-go' service
This combination of benefits is unique to the footwear industry. As consumers and stakeholders are paying increasingly more attention to the environmental impact and sustainability of production and consumption of goods, Eurofins BLC fills the demand of retailers by offering an easy-to-use, cost-effective, and comprehensive tool.
After the launch of the Footwear Impact Calculator, we received tremendous feedback for the tool. Brands and suppliers are keen to use it to identify areas of improvement and estimate specific impacts such as the carbon footprint of each style of footwear, whilst avoiding making any specific 'green claims'.
Andrew Hudson, Managing Director at Eurofins BLC