Improving Loop's circular 'milkman' model with environmental footprint information
Refillable, reusable packaging is not a new concept. Making that model work in a world of global supply lines, however, is not as intuitive. Loop is an initiative that aims to update the original 'milkman' model for the 21st century by offering consumer products in durable, reusable packaging that is returned and refilled after use.
About
Procter & Gamble (P&G) is one of the many companies to partner with the Loop initiative to sell their brands in reusable packaging. P&G is exploring the new Loop system as one solution to reduce the need for single-use plastic and the resulting packaging waste delivered to consumers via e-commerce and brick and mortar (B&M). The objective is to validate that this innovative circular model has the capacity to meaningfully reduce the environmental impacts and waste of packaging before scaling the current pilots.
We're proud to partner with Loop as the first consumer goods company to be part of this program and with a large range of brands as we work to accelerate sustainable innovation and explore new circular solutions that consumers love.
Vanessa Catherine, Global Sustainability Brand Manager/ Loop Program Leader at P&G
Loop's operational flow is simple. Brands can sell Loop products to consumers either through retailers or Loop's e-commerce platform. Consumers return the empty container to Loop via any participating retailer or via e-com pick up. Loop receives and cleans the empty container and sends the clean container to be refilled and re-sold by the brand. Since a container is designed to last several cycles, the fabrication costs of the packaging are saved with every reuse cycle.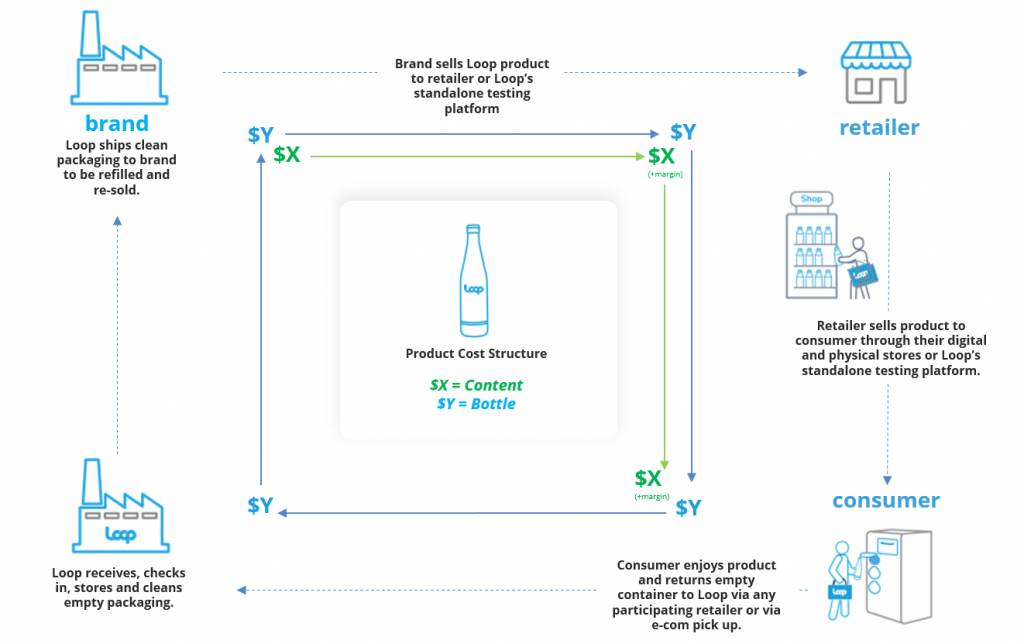 Challenge
Loop's circular model brings system changes with it that go well beyond deciding on different packaging materials and weights. P&G was looking for a solution to determine which combination of packaging materials and supply chain designs work well and how to optimize these variables to reduce environmental impacts.
As the Loop initiative is meant to grow with new products and more access all over the world. P&G is looking for ways to validate overall positive environmental impact & future-proof program scalability.
P&G's ambition is to co-design with Loop a scalable reuse supply chain that has a lower environmental footprint than traditional brick & mortar and e-commerce.
Bram Keteleer, Global Transportation Capability & Innovation Leader / Global Physical Distribution Sustainability at P&G
Solution
To better understand the environmental performance of this system as a whole, we conducted a study of the life cycle assessment and material circularity assessment of two P&G products sold using the Loop packaging, comparing them with the same product sold via e-commerce and delivered in the mail or brick and mortar stores (B&M). The two products included in the study are Ariel laundry detergent 3-in-1 pods sold in Ile-de-France (the region in north-central France surrounding Paris) and Pantene shampoo sold in the New York region.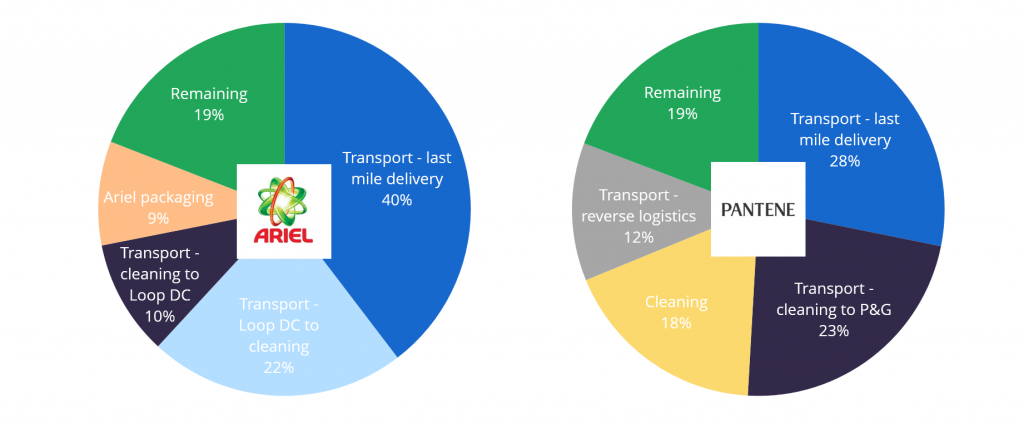 A parametrized LCA model was built in SimaPro to assess and optimize the circularity and environmental impacts of the two products sold via Loop. The e-commerce and brick & mortar models are also parametrized.
The model covers a very large set of underlying parameters such as transport distances (all supply-chain steps), transport modes, weight of packaging and packaging material choice (durable and single-use), weight of the product itself, packaging durability, cleaning energy use (amount, electricity grid). Because PRé offered an online tool – using SimaPro Share customized for the LCA models built for this study – P&G can continue to optimize system design configurations for Loop.
Benefits
With this model and tool, P&G can now test different fulfillment models, packaging materials and supply chain conditions in a variety of markets and make sure that the efforts of Loop translate into an environmentally friendly, circular alternative.
The LCA brought very interesting learnings on the most important design elements for a circular supply chain to be more environmentally friendly versus a traditional brick & mortar and e-commerce. Thanks PRé for being our expert partner in this very insightful journey!
Bram Keteleer, Global Transportation Capability & Innovation Leader / Global Physical Distribution Sustainability, P&G
---
To learn more about this project, you can watch a recorded video presentation by our Principal Consultant, Marisa Vieira, at SETAC SciCon (May 2020).