LCI automation tool for a furniture company
For Steelcase, PRé designed a tool to help them execute their extensive sustainability strategy more easily, by automating a large number of steps that previously had to be done manually. Not only does this save time when creating new life cycle assessments (LCA) of products, designs and updates, it also reduces the potential for error. For ease of use, the new, centralized tool uses SimaPro.
About
Steelcase, the leading manufacturer of furniture for offices, hospitals and classrooms, takes an insight-led approach to the design and development of its products and solutions. As such, continually exploring new ways to identify opportunities to uncover value for partners and customers is central to its strategy. Environmental footprinting using life cycle assessment (LCA) is viewed as a promising possibility to allow Steelcase to credibly examine the product development process and then communicate results from a new perspective to customers and stakeholders.
Challenge
One of the biggest challenges for the sustainability team of Steelcase is integrating the data from the design teams and suppliers across the globe into the LCA models. Redundancy of data and efforts was causing the team to spend time and resources to gather the same data for multiple LCAs. PRé worked with Steelcase to reduce the data management burden and speed up the creation of LCAs through automation.
Solution
The sustainability team at Steelcase is constantly creating models of their products to identify hotspots and analyze the environmental impacts of the entire product's life cycle. Every year, several models have to be created, which up to now involved several manual steps and calculations with different Excel files. Each life cycle stage of each product had to be modelled. The information was manually typed into SimaPro to create processes, product stages, waste scenarios and a life cycle. This is all very time consuming and error-prone. Worse, the entire process had to be repeated for each new product or for newer versions of the same product.
With the new solution, the manual steps are transformed into automatic tasks through tailor-made data management scripts. This does not compromise the current way of working for the Steelcase sustainability team, because we managed a full integration of SimaPro and Excel using the COM interface. The tool does the following steps automatically:
Creating a Bill of Materials (BOM) using information from drawings, SAP, or data collected from the designers or suppliers. A BOM is an extensive list of the raw materials, components and assemblies required to manufacture a product. For this reason, the BOM includes material type, weight, supplier information, transport distances, etc., per part.
Mapping each entry of the BOM to a background process from the SimaPro libraries or from project libraries created by Steelcase.
Centrally saving the mapping table for future use in new or updated products or by different team members. The mapping table includes a feature to pre-check whether the processes exist in SimaPro. This keeps the table up to date and prevents errors while creating the model in SimaPro.
Translating the mapped BOM to different life cycle phases: materials, downstream transportation, upstream transportation, end-of-life, etc. For each phase, specific scripts were developed. For example, for parts requiring transportation, an existing transport process from SimaPro was copied and adapted in Excel. Each product stage can be uploaded to SimaPro with a single click of a button. In another single step, all links and secondary processes are created. The status of each step is saved in the tool to prevent errors and keep track of what was done.
As a final step, automatically creating a complete life by linking all stages created in the previous steps. The final model can be used right away to calculate the environmental impacts of the product.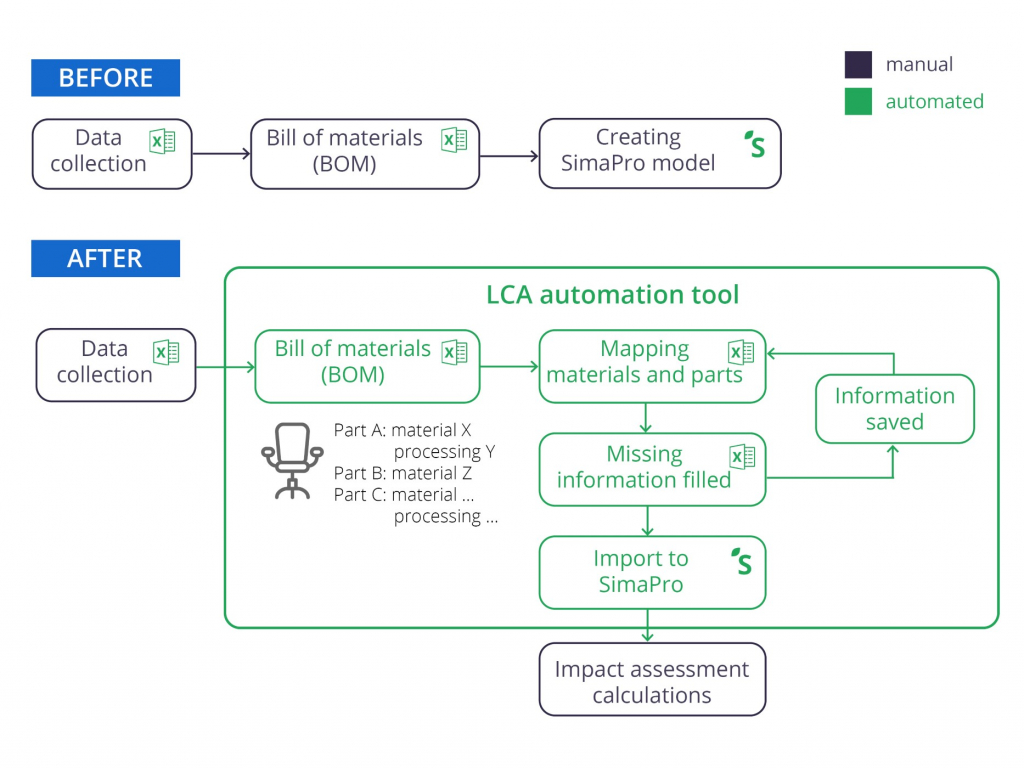 Benefits
With this automated solution, Steelcase can save time on time creating LCAs and instead use this time to focus on the analysis and development of sustainable strategies and eco-design. Because the tool is centralized, the Steelcase team can better organize the information that is used each time a new product is developed. As a result, they now have a more agile way of constructing models in SimaPro, which requires much less data management.
Working with PRé proved to be a very productive partnership. The communication during the project was very open and all of our needs were met. The tool that was created specifically for Steelcase will make the LCA process much more streamlined and consistent for years to come.
Massimo Collotta, Environmental Engineer, Global Sustainability, Steelcase