Same sneakers, smaller footprint
Cariuma is always trying to be thoughtful about the sustainability of their sneakers. This includes choosing the right type of footprinting study – one that follows certain ISO standards – so that they can not only use the results to identify and work on improvement opportunities but also confidently communicate about their sustainability approach and results with customers.
About
Cariuma is a sneaker brand that sells their products worldwide. Sustainability has been their core value from the beginning, and they are always looking to take it one step further. This is reflected in their aim to use natural materials like bamboo, rubber, or cork as well as recycled materials such as recycled PET and recycled packaging paper. Of their products, 65% are completely vegan, and they are looking to increase it. As part of their ecological restoration program to restore biodiversity in the Brazilian rainforest, they also plant two trees for every pair of sneakers they sell.
Challenge
As the next step in their sustainability journey, Cariuma recognized the need to start product carbon footprinting. In doing so, they could provide consumers with insight into the carbon footprint of their products. In particular, one of their core products – the IBI Slip-On. The product-level insights would also show them effective impact reduction targets, and support sustainable product design of future shoes.
Solution
Two sneaker models were selected for a carbon footprint study done by PRé. The study was designed to show Cariuma the total impact these models have on climate change over their entire life cycle. Simultaneously, the study highlights which life cycle stages, processes and materials contribute the most to this impact. This information supplements Cariuma's carbon offsetting plans in Brazil. Most importantly, it enables the company to create targeted solutions to minimize their impact on climate change.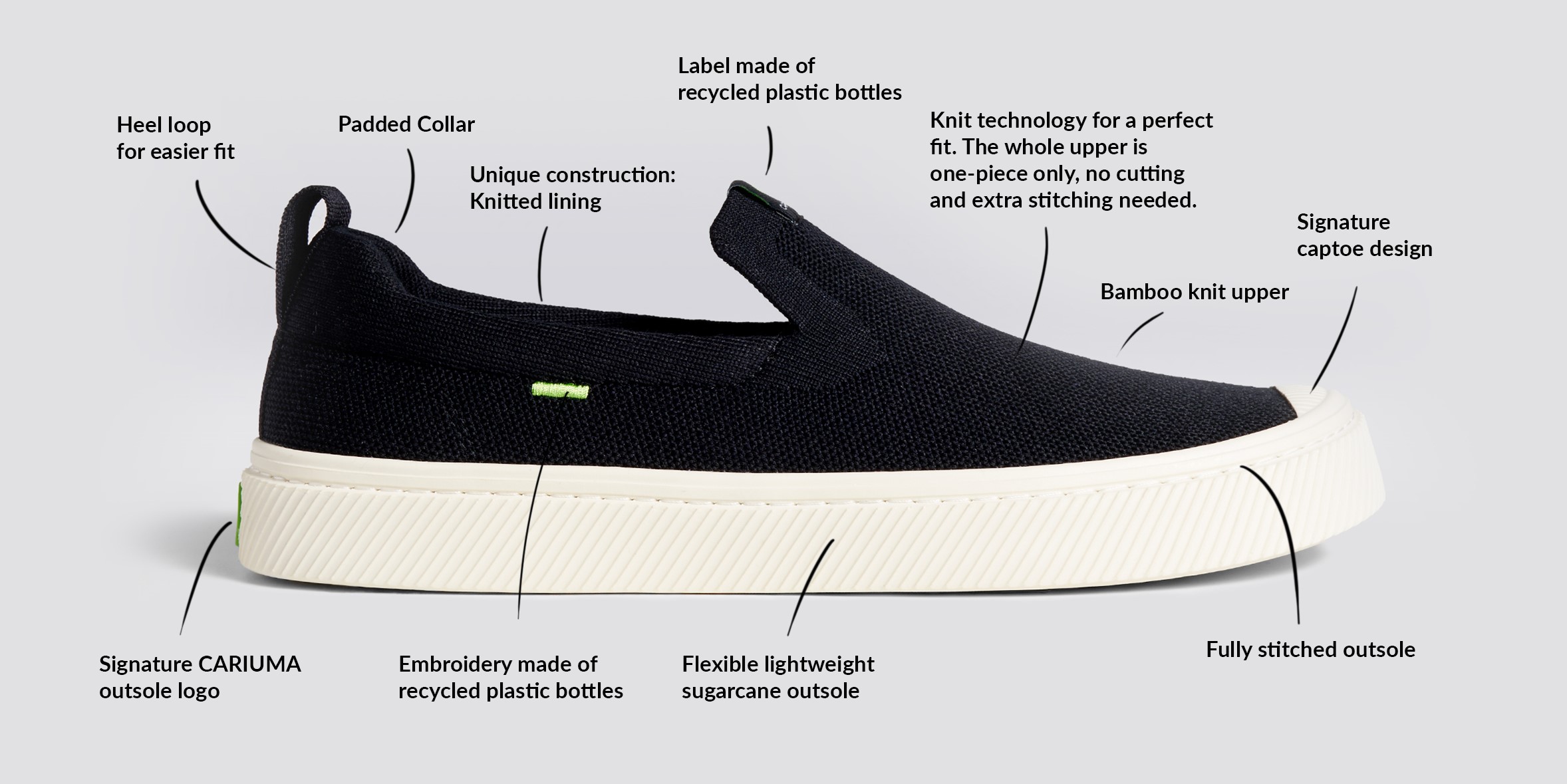 Product carbon footprinting for reliable and robust consumer communication
To provide robust and reliable results that can be communicated to consumers, PRé calculated the carbon footprints for Cariuma following the ISO 14067:2018 standard. One of the sneakers analyzed was the IBI Slip-On. After external review by ACV Brasil, the results were used in Cariuma's marketing and communication material as part of their product launch. Because the study was externally verified, Cariuma was able to communicate the carbon footprint of the IBI Slip-On on their social media channels and website right from the start, supplemented with a summarized LCA report, prepared by Cariuma, to provide additional information to anyone interested in how the results were calculated.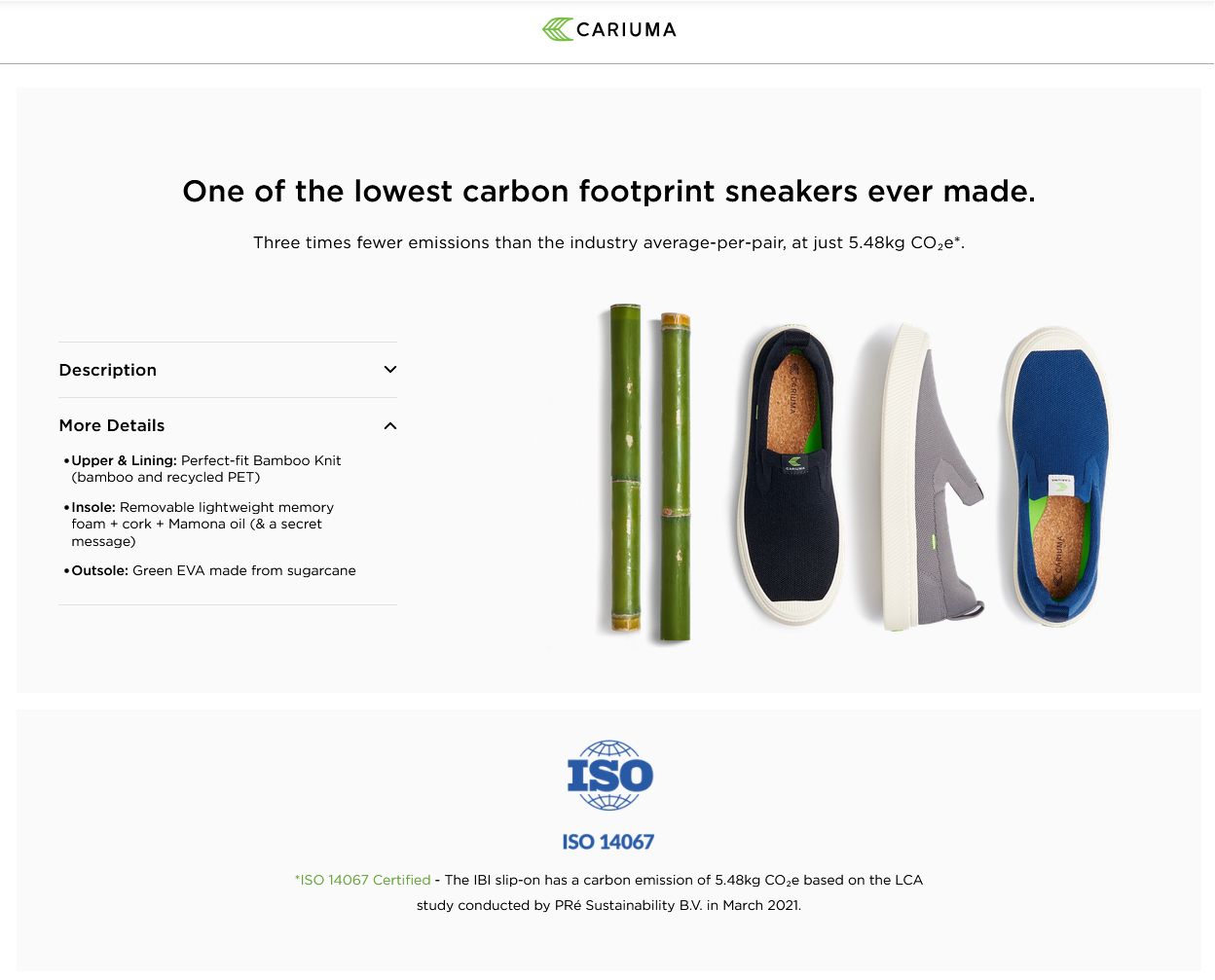 Product carbon footprinting for sustainable product design
The calculations themselves were based on a parametrized LCA model, which can now also be used as a baseline model for future ISO 14067-compliant carbon footprint studies of similar Cariuma sneaker models. To give Cariuma the ability to make full use of this capability, the model has been made available in SimaPro Share. This allows their designers and sustainability team to independently explore the impact of different scenarios, such as using a different material, adjusting the weight, or changing the location of suppliers. These insights can be used by Cariuma to determine improvement opportunities and support them on their journey to reduce their impact on climate change.
Benefits
The carbon footprint studies allowed Cariuma to understand the main contributors to the impact of the selected sneaker models and identify improvement opportunities. In addition, because of the type of study they chose, they can communicate the carbon footprint of their sneakers to consumers and help them make conscious choices.
Cariuma can also use the results to create science-based strategies for the future. Being able to access the model gives them a deeper understanding of the importance of design choices and allows them to take a proactive approach to reducing their impact on climate change.