Project news: Linking the UN SDGs to LCA
Last year, PRé Sustainability and 2.-0 LCA Consultants started a UNEP Life Cycle Initiative project to link the UN Sustainable Development Goals (SDGs) to life cycle assessment (LCA). Ever since the SDGs were introduced, companies have been wanting to contribute to achieving them. Unfortunately, the SDG targets and indicators were not developed with businesses in mind, so it is difficult to effectively measure and monitor the results of your effort. Together with 2.-0 LCA consultants, we have now developed two complementary approaches to help businesses measure their performance on the SDGs they care about.
The two approaches both seek to link the Sustainable Development Goals to LCA by constructing impact pathways that link the SDGs to company performance through assessments, indicators and targets based on scientific evidence. Approach A starts from the existing LCA framework in the company and has the SDGs as the endpoint. Approach B goes in the other direction from a single end-point of sustainable wellbeing, tracing the impacts backwards to the SDGs and further to the business activities.
The SDG project will result in the final impact pathways for all SDGs and both methods, which organisations will then be able to use to get clarity on their own performance. The impact pathways are still in development, although the team has already applied the two new approaches to SDG 2: Zero Hunger. In the next phase of the project, we will do the same for the other 16 SDGs.
Approach A: from LCA to SDGs
Approach A is for organisations that have already chosen the Sustainable Development Goals they want to focus on. They now need tangible and meaningful indicators that show whether their decisions actually make a difference. If these organisations have already done LCA work or already use indicators for social and environmental LCA, they can use Approach A to align the targets of the selected SDGs with that existing framework. To link a company's LCA results to SDG 2: Zero Hunger, for instance, Approach A leads companies through a series of indicators and targets (see figure below).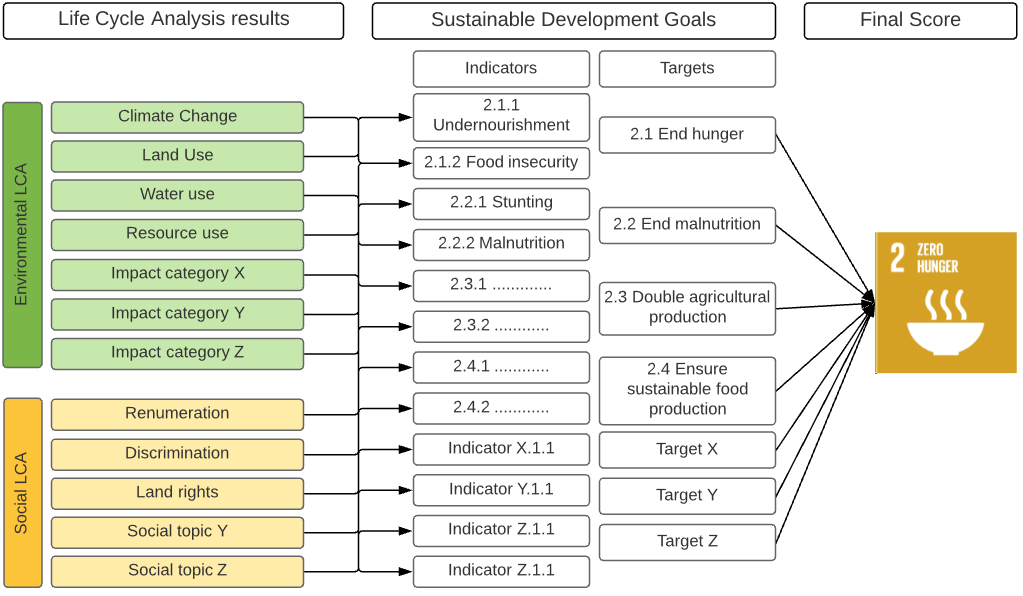 As there are many possible links between LCA-based indicators and the SDGs, a materiality assessment is needed to select the most important ("material") linkages. We suggest a (semi-)quantitative scoring approach for the materiality assessment, combined with a consultation with stakeholders. The company attaches a score from 1 to 3 to its existing LCA results that have an impact on the chosen SDG indicators, depending on how relevant the results are to the SDG. This results in a list of environmental and social topics that the organisation is already working with, ranked by their relevance to the organisation's chosen SDG. By involving stakeholders in the ranking exercise, the organisation can make the analysis even more robust.
Approach B: from SDGs to LCA
Approach B is for organizations that want to expand their current LCA work towards a more complete life cycle sustainability assessment, an LCA approach that includes environmental, social and economic indicators. Using Approach B, companies can capture their impact on all 17 SDGs in a comprehensive and consistent way. This approach helps organisations avoid overlaps and gaps as much as possible and make sure the impact assessment results can be compared. Results can potentially be expressed in monetary values (by linking them to disability-adjusted life years (DALY) that can be converted into euros) and integrated with internal and supply-chain costing data.
In Approach B, the indicators belonging to the 17 SDGs are the starting point of the analysis. But in this approach, the impact pathway goes further and ends in a (single-score) measure of sustainable wellbeing. This single score approach is chosen because people's wellbeing is exactly what the SDGs aim to improve. The quantitative framework for Approach B will contain all SDG targets and indicators, showing their role in the overall impact pathway framework (see partial overview in the figure below).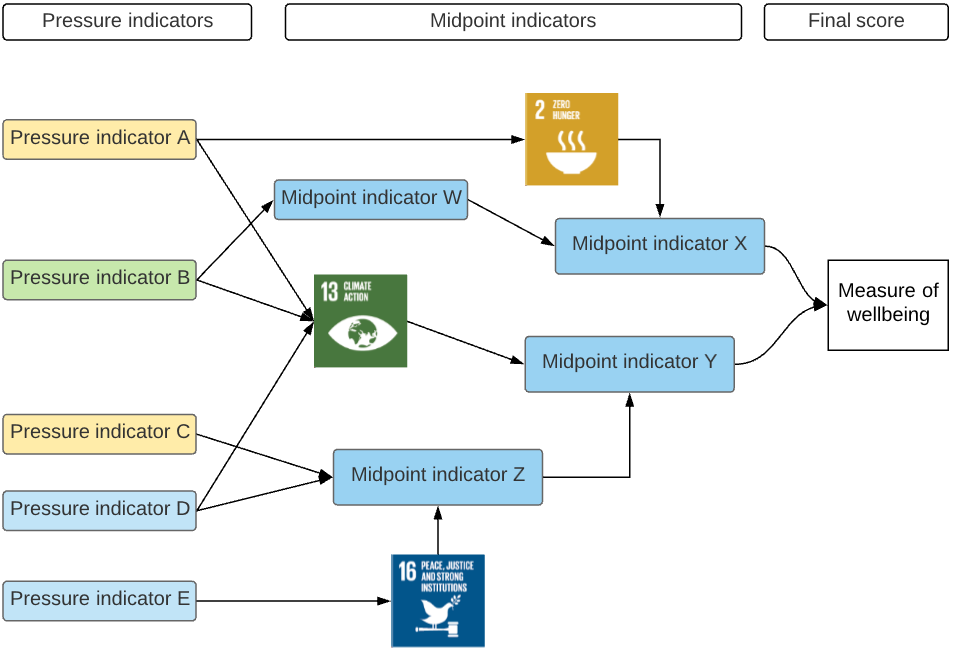 Become an SDG frontrunner – join our project as a business partner
We are looking for business partners to join our project and be the first to use this new method for their Sustainable Development Goal reporting. We will offer guidance and support as your company applies the method. By joining the project as a business partner, you will be empowered to measure your company's impact against the SDGs. As a business partner, you will get:
An individual call to define the SDG impacts your business is interested in measuring, how you would like to report on that and to find a suitable case study.
Access to our SDG measurement program. In 4 workshops, you will learn to apply the methodology in your organisation.
The chance to exchange experiences with and learn from other business partners with similar challenges during the workshops.
40 hours of support from our consultants in measuring your company's impact on the SDGs.
Visibility for your business. The names and logos of business partners will be included in the project presentations, reports and websites.
If you are interested in participating, please contact Eric Mieras, or join our free webinar on April 30, 2019, to find out more about the project and membership. For multinational companies and companies in OECD countries, the joining fee for the project is EUR 12,000. Non-OECD companies may join for EUR 6,000.
Share your opinion in an online consultation
We need your help to help us make sure the method is as relevant and useful as possible. To continuously challenge the development of our approaches, we would love to hear your experiences with and thoughts about the Sustainable Development Goals and your reflections on working with the method. You can share your thoughts in an open online consultation that runs throughout the project and participate in an interesting discussion with us and other companies in the same situation.
In this first stage of our project, we are discussing four key choices for the methodology. Join the consultation online and share your opinion.
Daniël Kan
Expert
Daniël worked at PRé from 2018 until 2023. As a Sustainability consultant, he collaborated on many LCA projects, especially in the fields of biodiversity and ecosystem services. He also provided SimaPro, LCA trainings and biodiversity footprinting trainings.