Life cycle seeds taking root in Chilean energy policies
Life cycle thinking is becoming more well-known everywhere on the planet, but not everywhere at the same rates. Chilean sustainability firm Regenerativa, one of the official partners in the SimaPro Global Partner Network, has taken the time to explain how life cycle analysis (LCA) is gaining ground in Chile, where government involvement and encouragement is setting the stage for more growth.
Guest post by Camilo Bastías and Benjamín Lagos – Regenerativa, SimaPro partner Chile
We are living in an era in which we realize the pressure we are putting on the planet and the degradation already caused. To start thinking and acting towards the regeneration of our only home, understanding the environmental impacts we generate with our lifestyles and actions is fundamental. Businesses and academia – especially in developed countries – have already been systematically using the instrument of LCA to focus their efforts. Other regions are lagging behind. In the last few years, Latin America has been one of the regions catching up to the forerunners, and some governments are cautiously attempting to integrate life cycle thinking into their decision-making.
Clear efforts to advance in LCA have been seen in several countries of the region. Mexico and Brazil have a sound track record and strong supporting institutions. Chile, Perú and, more recently, Argentina have been working on it as well. The case of Chile is particularly interesting because of the involvement of the government, as evidenced by references made to the life cycle approach in two important public programs. First, the 2050 Energy Policy (2015) mentions the life cycle approach as an action in guideline 25: "Analyse the life cycle approach to develop the energy sector for environmental stewardship". Second, the National Programme of Sustainable Production and Consumption (2016) refers to the life cycle in the objectives or goals of three different action lines: sustainable construction, consumer information and clean energy and energy efficiency. It also suggests LCA as a tool in some action lines. What probably planted the seeds for this was the two-year publicly financed project which gave birth to the environmental calculator Ecobase, carried out between 2013 and 2015. It became the most important attempt to build a Chilean life cycle inventory.
Afterwards, two studies commissioned by the Ministry of Energy of Chile provided some water for the already planted seeds. The studies were awarded to Regenerativa. The first one, executed in early 2017, intended to review national and international experience in applying LCA in the energy sector. The second, executed in late 2017, aimed to develop both a methodology and a tool – based on a life cycle approach – to assess the impacts of electricity generation technologies. The tool is currently being used as input for the third study, aimed at designing and applying sustainability indicators for the energy sector. It is expected that the Ministry of Energy will, little by little, start to incorporate life cycle thinking in their activities.
These projects increased the knowledge and awareness about LCA inside the Ministry of Energy, but not just there. A key component of the projects was the involvement of stakeholders through consultations and workshops. Actors from other ministries, civil society, academia and business helped improve the activities and widen the project's insights into what LCA is and how this methodology can support decision-making in the work environment.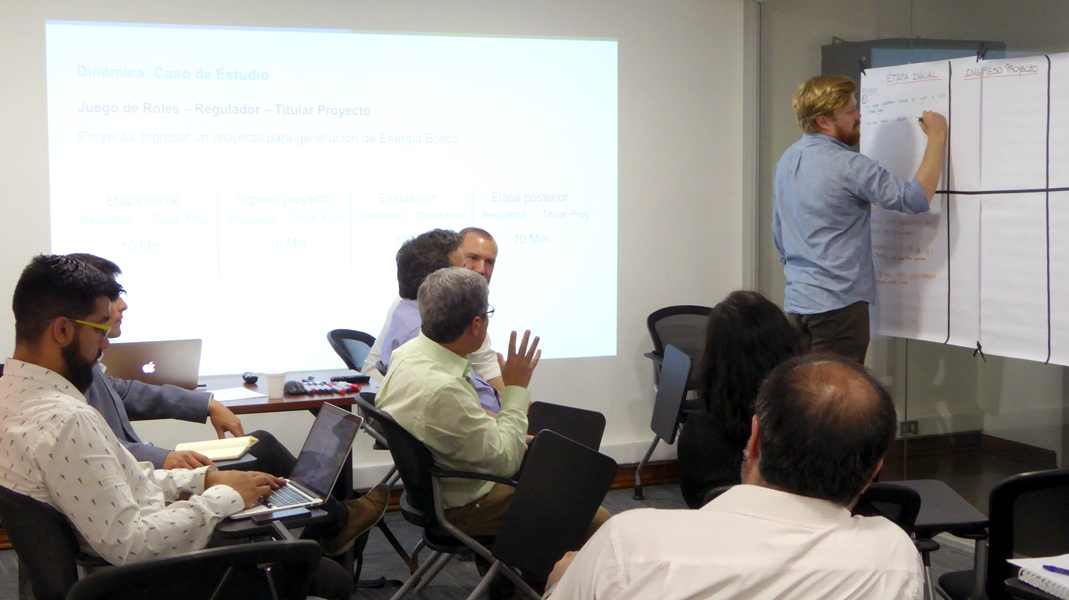 Governments and public policies could be great allies in fostering LCA. In other regions – especially Europe and US – the industry sector is increasingly demanding LCA studies and EPDs, giving LCA a push. For many reasons, such as little internal industry, lack of capacity, unclear drivers or just different priorities, the business sectors in Chile and other regions of Latin America have not been actively demanding or performing LCA studies yet. In these situations, the support of the government is particularly important as a source of funding and demand, and a platform to widen the work of practitioners. Right now, it is important to take advantage of the momentum of government involvement as a way to strengthen the use of LCA within Chile and then gradually engage the industry sector. Day by day, more people and institutions are looking to measure our impacts and regenerate our planet. Let's continue watering our LCA seeds.
About Regenerativa
Regenerativa is a Chilean sustainability consulting company with a mission to accelerate the transition towards a circular economy and to promote sustainable and regenerative development. It was founded in 2015 by a group of young entrepreneurs and innovators who are committed to helping their country to transition to an environmentally aware society. Regenerativa is an official partner of the SimaPro Global Partner Network.
Camilo Bastías
Camilo is an Economist from the University of Chile. He is currently writing his master thesis to become an Environmental Economist at the University of Milan in Italy. He has performed for 3 years as a consultant at Regenerativa, designing sustainable strategic solutions in a wide range of projects, being particularly active in environmental footprint topics. His main interest areas are life cycle management, agriculture, climate change, and waste management. He is an enthusiast runner, hiker and climber.
Benjamín Lagos
Benjamín is an Environmental Civil Engineer from Pontificia Universidad Católica de Chile who has performed 2 years as a consultant at Regenerativa, focusing on the development and management of projects related to applied and strategic sustainability area, being particularly active in life cycle perspective. His fascination for the marine world has taken him to participate in diverse expeditions as a scientific diver in Chilean Patagonia and México's marine protected areas.