SimaPro in 2030: where are we headed?
In the 30 years of our existence, we have learned that there's always plenty of work to do. To keep relevant, you have to keep innovating and exploring new territory. We have also learned to put our customers first and to involve them in the development of our software. In the end, they're the ones using it successfully. That's why we wanted to give them the floor to share ideas on what SimaPro will look like ten years from now.
Recently we organized an open contest where our software users were invited to share their ideas. We were fortunate to receive many great ideas: conceptual, pragmatic, technical, focused on making the daily life of users more efficient, ground-breaking or down to earth. All these ideas have been very valuable to help us to understand what makes you, our users, tick. They also give us a clear outlook on the future.
Overall, all ideas could be grouped into five themes:
1. Holistic ideas combining environmental, social and economic
This was a popular theme, so there seems to be a need to combine various aspects of sustainability in one assessment. The good news is that we just started a project named ORIENTING, with a variety of partners, in which we aim to develop a life cycle sustainability assessment (LCSA) that combines these aspects. The project also aims to develop the software requirements for such an LCSA.
2. Ideas for linking LCA to the SDGs
The SDGs are high on everyone's agenda. Linking them to LCA was brought up numerous times. At the moment, we're doing a project for UNEP's Life Cycle Initiative that tries to establish exactly these links. Once those are in place, we will definitely look into how we can incorporate them in SimaPro.
3. Ideas for linking to other tools & systems
Another theme that users brought forward could increase the availability of data and ease the life of LCA practitioners when it comes to data collection. In addition, as we learned from a project we did with the Dutch dairy sector, having more primary data will increase the quality of the results. But probably most importantly, linking more tools and systems will make life cycle information accessible for non-LCA experts, which is a critical aspect of the development of the sustainability field in the next decade.
4. Ideas about technologies such as AI and blockchain
Especially for the technology-minded, the possibilities of these new technologies are endless. Artificial intelligence could help generate and present alternative design options. Blockchain could improve the quality of the available data. We're happy to share that we participate in a project, ECOFACT, that tries to do exactly that and not only link SimaPro to other tools, but also develop algorithms to make suggestions for improvements.
5. Ideas to increase the availability of public data
This is probably not a very new idea, as this has already been on the radar for many for a long time. However, people had really concrete ideas around this. As do we. We initiated CDLCI so others can develop sector and region-specific databases. In addition, we're working with NorEnviro to make Norwegian research data available for use.
We're happy with every idea we received. The fact that they seem to be aligned with our vision for the future makes us feel confident that we can achieve these ideas even before 2030. So, please keep sharing your ideas!
---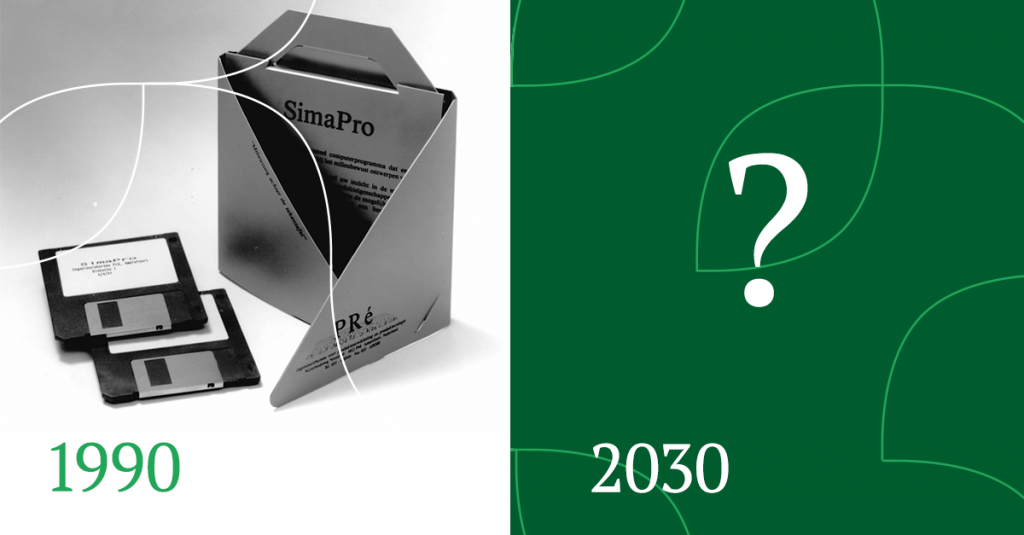 About the contest
To celebrate our thirtieth anniversary in November 2020, PRé Sustainability organized an online contest inviting everyone to imagine SimaPro in 10 years. A few dozen entries were received, and 6 shortlisted candidates presented their ideas to a jury during an online pitch. The winners are: José Silvestre (1st place), Rodrigo Alvarenga (2nd place) and Awaz Alfadil and Antonino Marvuglia (3rd place).
Eric Mieras
Managing Director
Sustainability is all about impact. Positive impact makes you meaningful. But first you have to know where you are making an impact and where you can create shared value. That's where PRé comes in. Pinpointing your impact is an essential starting point for taking joint action with people and organisations in your ecosystem. The combination of sustainability and social business can make a real change in the way we do business.