Environmental footprint of upcycled grocery tote bag
Small mother-and-daughter-run company Relan turns old banners and billboards into bags. PRé did an environmental impact assessment to help Relan find ways to further reduce impacts and improve customer communication.
About
From a materials perspective, recycling is often 'downcycling'. Raw materials created by breaking down old products are often lower quality than new raw materials. So far, it's proven impossible to obtain an equivalent degree of purity. Because of this, sustainability experts worldwide are looking into ways to avoid or postpone classical recycling. For a sustainable future, we need to be able to 'upcycle' – use old materials in a way that's as good as or better than the original.
One way forward is to take a wider perspective on the flow of energy and materials. Another one is to think of ways to re-use old materials without fully breaking them down to their components. This requires companies to think creatively about what they can do with their waste materials. Relan, small mother-and-daughter-owned company, focuses on discarded advertising billboards and banners, and uses them as raw materials for their bags – turning hard-to-recycle plastic into stylish and useful consumer items. PRé was impressed with their vision and offered to do an environmental footprinting of one of their bags.
Challenge
After marketing campaigns end, banners and billboards are typically disposed of or stored in warehouses indefinitely. Relan found a way to keep these materials out of landfills. Relan repurposes used billboard and banner materials into new products, such as bags and other accessories. PRé met Relan at the Sustainable Brands 2013 Conference in San Diego, USA, and was inspired by the products' upcycling and end-of-life story. PRé offered to conduct a life cycle assessment (LCA) of Relan's reusable and upcycled Grocery Tote to illustrate the environmental impacts of Relan's products compared to conventional products. This would help Relan identify ways to further reduce the impacts of their products and would improve their sustainability communication towards customers.
Solution
We analyzed three equivalent-size bags and compared them using the same boundaries. The scope of the study is cradle-to-grave and includes extraction of the raw materials, manufacturing, distribution, and end-of-life. We studied the following products:
Relan Grocery Tote
Cotton Tote (generic)
Polypropylene bag (generic)
To maximize the benefits of our analysis for Relan, we assessed the both global warming potential and energy demand of the three reusable totes. These impacts have the best consumer recognition, and will be useful to Relan in their marketing and sustainability communications. The Relan bag consists of used billboard and banner material and a small amount of woven polyester for the binding and handles. The totes are manufactured at the Relan facilities in Minnesota, USA, and shipped to customers using leftover cardboard boxes from the local food shelves. The billboard/banner material and the packaging materials were originally made of reused materials. Therefore, the production of these materials is not assigned an environmental impact; the impact from producing these materials belongs with the initial producer of the billboard or banner under the 'polluter pays' principle. We do, however, include the impacts of transporting these materials to the Relan manufacturing facility.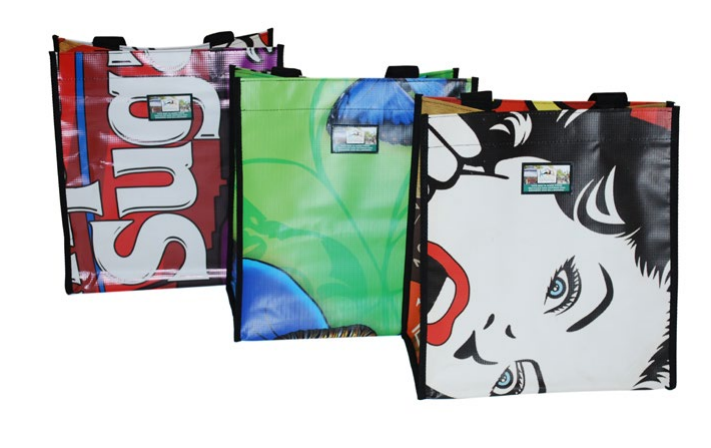 Results indicate the Relan bag has slightly lower impacts than the polypropylene bag and much lower impacts than the cotton tote bag. The largest driver of environmental impacts for all three bags is the raw material stage. Specifically, for the Relan bag, transporting the old banners and billboards to the manufacturing facility and producing the virgin polyester material used in the handles and binding of the bag. The manufacturing stage is a small source of overall impacts; therefore, focusing future impact reduction efforts on the raw materials could help to further reduce the environmental footprint of the Grocery Tote.
Global warming and Energy Demand impacts of Relan Bag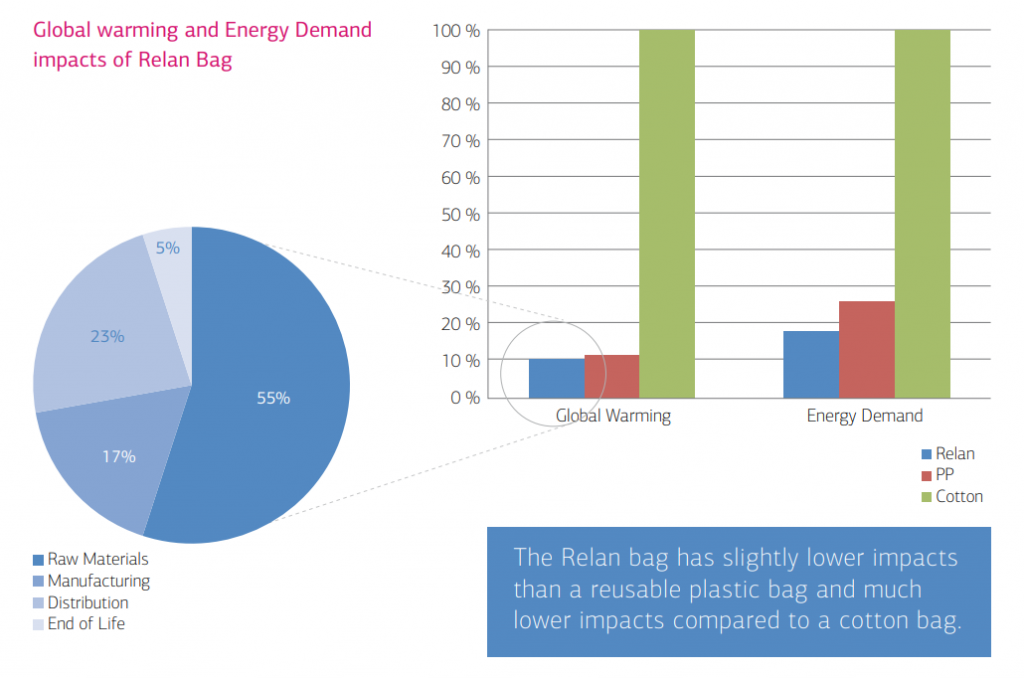 Benefits
As a result of this study, Relan discovered the following benefits:
Knowing how to speak to customers about the environmental benefits of its product compared to similar products – improved sustainability communication
Understanding how use of virgin materials affects the impact, and how using recycled materials for the handles and binding could benefit the total impact of the totes
Understanding how important the sourcing location for banners and billboards is for the total impact, due to the impact of transportation