Establishing an industry baseline for synthetic rubber
For the International Institute of Synthetic Rubber Products (IISRP), PRé conducted four LCAs on different types of synthetic rubber. This empowers IISRP's 60 members to respond to customer queries about their environmental impacts.
About
International trade organizations, such as the International Institute for Synthetic Rubber Products, are uniquely positioned to significantly improve transparency for an entire industry. IISRP has 60 members and affiliates in 22 countries, producing over 80% of the world's synthetic rubber. When members were increasingly asked for information regarding product environmental impacts, IISRP decided to step in.
Challenge
Across the globe, environmental information has been requested of member organizations by their customers on a more frequent basis. PRé worked with IISRP to gain environmental insights in their member's supply chain, establish industry average baselines, and empower members to respond to customer inquiries regarding product environmental impacts.
Solution
PRé conducted LCAs for four types of synthetic rubber for IISRP including polybutadiene (BR) rubber, styrene-butadiene rubber (S-SBR), emulsion styrene-butadiene rubber (E-SBR) and styrene-butadiene styrene (SBS) rubber. PRé collected production data from 18 companies at 38 facilities across three geographic regions (North America, Europe, and Asia). Four life cycle assessment reports were created on the production weighted average product, which identify key drivers of environmental impacts for each of the four products. Four metrics were analyzed including total energy demand, climate change, eutrophication and acidification.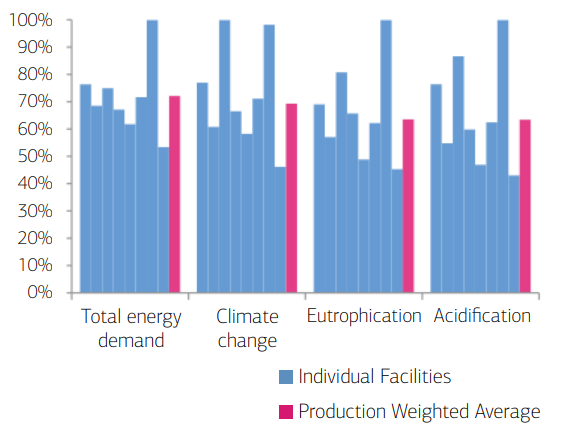 In addition to the industry average life cycle assessment reports, PRé created two datasheets for each individual facility that provided data. First, a short report containing the LCA results as well as the life cycle inventory (LCI) of the specific product was created that can be provided to external parties requesting LCA and LCI data. PRé also created more specific reports that the company can use to communicate results internally, which includes anonymized details on how each individual company compares to other participants in the study.
Benefits
Creation of a simple way for companies to respond to customer requests for LCA data through the creation of data communication sheets containing emission factors for each product
Insight into the main drivers of environmental impacts in the synthetic rubber supply chain based on an industry average product
Understanding of how individual companies perform compared to other participants in the study
Development of reports for both external and internal communication