A method for assessing the impact of novel technology
For PROSUITE, PRé helped develop a novel sustainability impact assessment method for technology, including social impact assessment and new sustainability metrics. This helps understand the effect of these hard-to-predict technologies.
Challenge
New technologies are constantly being developed, driving progress and change. Because technology has the capacity to drastically change our lives – and not always for the better – it would be invaluable to know how sustainable a new technology is, before it is introduced. This would help prevent new inventions from sparking controversy in terms of the net benefit they bring to society.
Thorough sustainability impact assessment is generally accepted to focus on three pillars: social, environmental and economic sustainability. This is known as the 'triple bottom line' of people, planet and profit. Many methods for assessing the sustainability of products and services exist or are still being developed. These approaches have their merits, but cannot be applied in a generic way to assess all aspects of sustainability for a new technology.
What was missing was an objective way to evaluate whether a technology helps to address important sustainability challenges and whether it creates new ones. The PROSUITE (Prospective Sustainability assessment of Technologies) project was set up by the European Commission as part of the 7th Framework program to fill these gaps.
Solution
In the PROSUITE project, researchers from all over Europe collaborated to develop and test a coherent sustainability impact assessment methodology for technology. PRé was involved in the development of both the software and a social impact assessment methodology.
Together with researchers from other institutions, PRé developed an impact assessment method for social well-being. These new sustainability metrics include both quantitative and qualitative indicators for social well-being, such as total employment, risk perception, child labour and global inequalities.
PRé contributed to the development of the PROSUITE software by organizing a stakeholder consultation and implementing a number of basic engineering modules into the decision support system. These modules were based on criteria supplied by other project partners and can be used, for example, to calculate the energy requirements of pumping a specific liquid over a certain height.
Finally, PRé wrote the PROSUITE Handbook that summarizes the results of the project. The Handbook provides basic guidance for decision makers interested in the sustainability impact assessment methodology, and gives links to more detailed information.
Benefits
The PROSUITE project resulted in the creation of a new methodology of sustainability impact assessment, specific to technology. Instead of the three pillars mentioned earlier, PROSUITE takes five pillars into account: human health, social well-being, natural environment, exhaustible resources and prosperity.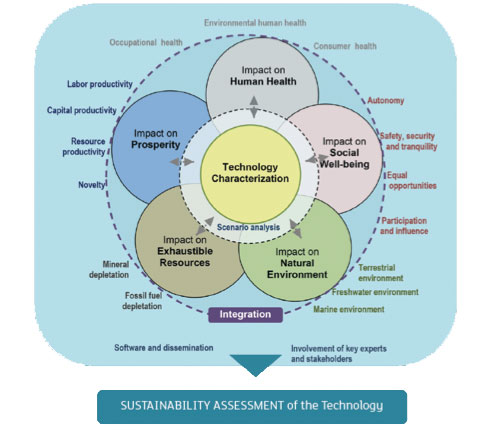 The deliverables to which PRé contributed include:
A social impact assessment methodology, including both quantitative and qualitative sustainability metrics
Implementation of the basic engineering modules in the decision support system
A handbook describing the novel PROSUITE methodology, the steps that need to be taken and where to find more detailed information