Putting sustainability front and center in product design
More than 80% of all product-related environmental impacts are determined during the design phase, but environmental footprint calculations are rarely available to product designers. To tackle this, PRé collaborated with Autodesk and ProtoTech Solutions, and together we created an application that makes environmental data available to product designers at the early design stages.
About
Autodesk empowers innovators around the globe to design and create a better world. With software used in architecture, engineering, construction, product design and manufacturing, they cater to more than 100 million people. Their software solutions, including AutoCAD, Revit, Maya, 3ds Max, Fusion 360, and Sketchbook, help to solve important design, business, and environmental challenges.

ProtoTech Solutions is a leading provider of 3D software technology solutions. Their expertise lies in 3D visualization, data interoperability, and application development. Their products – including consulting services and custom software development – are used by technology and engineering companies from over 80 countries.
Challenge
For years companies focused their sustainability initiatives on reducing the environmental footprint of their operational processes, like manufacturing and energy consumption. However, it's estimated that over 80% of all product-related environmental impacts are determined during the design phase. By shifting focus to this phase, great opportunities to reduce environmental impact present themselves. But design at the early stage is still evolving, and you don't have all the data yet, making sustainability assessments intricate and laborious. Besides, it's challenging to get the complex and sometimes fragmented life cycle assessment (LCA) impact calculations readily available for product designers. Assessing the environmental footprint at the end is more straightforward, but you fall into the trap of becoming an "environmental bookkeeper."

Autodesk and PRé identified the need to move away from static 'after-the-fact' reporting, and made scalable, dynamic, and flexible ways of environmental data available at the product design stage. What started as an R&D collaboration, thrived into a web application that makes footprint information available directly within the software where designers are modeling.
Solution
Together with system integrator ProtoTech Solutions and Autodesk's cloud-based APIs, we created a Fusion 360 web application. It provides designers with timely environmental insights precisely where they need them.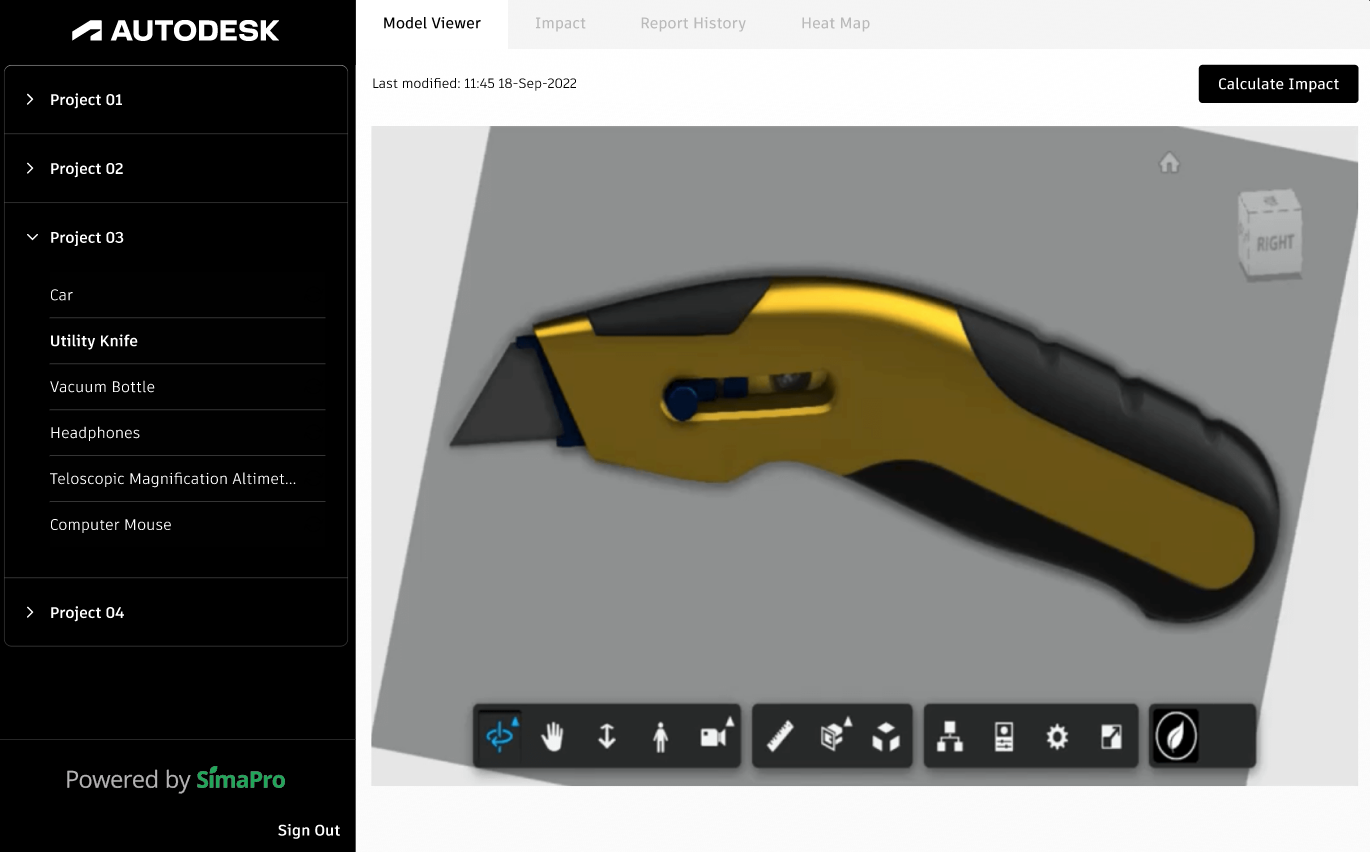 The application establishes communication between SimaPro and Fusion Data. To enable LCA computations, the bill of materials (BOM) data is fetched using the Model Derivative APIs. The actual LCA computations are triggered by calling upon SimaPro API. From a high level, the web application is simply fetching the data from Fusion 360. The data is put into SimaPro for environmental impact calculations, getting the results back, and displaying it to the user in the same design environment. The web application is acting as a bridge between the Fusion 360 user and SimaPro's LCA computation engine.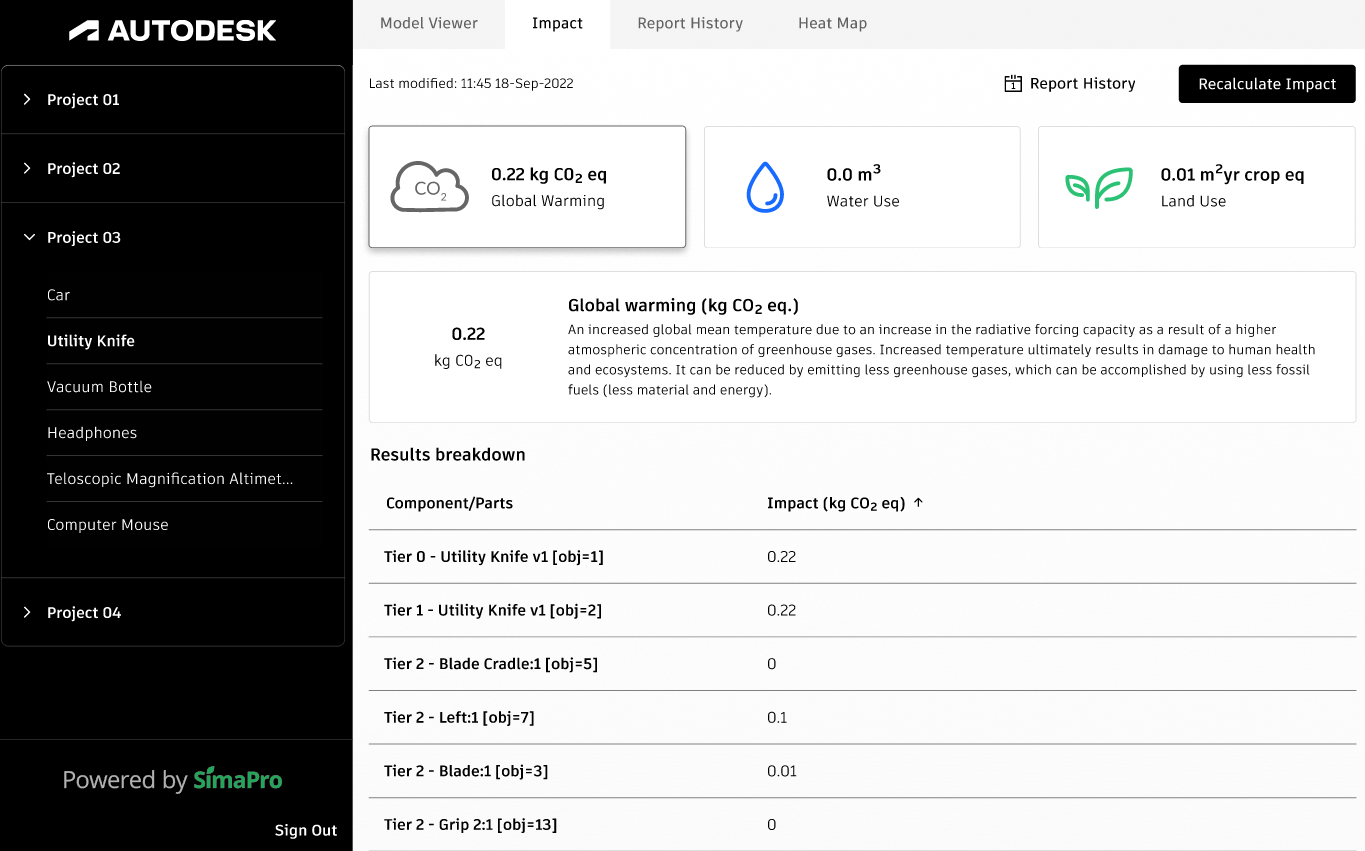 The SimaPro calculations run entirely in the background while someone is designing. We can bring that analysis right into the Fusion 360 models. As design adjustments are made, you'll receive immediate feedback about environmental impacts. We found SimaPro's API very easy to understand and use.
Rajesh Bhartiya, Founder & CEO at ProtoTech Solutions
Benefits
Environmental data right where designers need it. The solution empowers product designers with sustainability insights and helps them to make data-driven design choices. Having the data directly in the tool they already use increases efficiency.
Sustainability-led product design at scale. This solution can guide and advance green product development. The designers are able to track the differences between different design choices in terms of environmental performance, and make informed decisions.
My goal at Autodesk is to make total carbon calculation accessible to all designers to enable critical new product design decisions. Working with PRé Sustainability and through the SimaPro API capabilities, we were able to connect our Autodesk design tools to SimaPro LCA capabilities easily, and bring sustainability directly in the designers' environment, scaling expertise and impact.
Zoé Bezpalko, Senior Sustainability Strategy Manager, Design & Manufacturing at Autodesk